Imo Deputy Governor Impeachment Update: Rowdy Session In Imo House Of Assembly As Speaker solely removed Majority Leader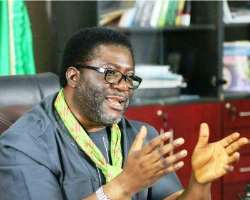 There was uproar in Imo State House of Assembly during a plenary session as the Speaker of the House, Rt. Hon. Acho Ihim after the motion of adjournment, illegally and unofficially announced the removal of the leader of the House, Barr. Uche Oguike Ph.D.
According to The Nigerian Voice correspondent, Acho Ihim announced the removal after every legislator was already making to leave the chamber without a recourse to any reason of what offence he may have committed.
One of the Legislators from Orlu zone who preferred speaking on condition of anonymity revealed that Mr. Speaker's disdainful and illegal action may not be unconnected with an impeachment against the Deputy Governor.
He revealed further that since the project of unseating Prince Madumere was sold in clandestine meetings, it has remained a hard nut to crack because of the timing, lack of cogent reason since he has not been found wanting in the discharge of his duties a Deputy Governor.
He said that following such stiff resistance so far experienced by Governor Rochas Okorocha of Imo State with his henchmen, and with the Majority leader's stance against the plot, Speaker Ihim who is said to be so broke and has been allegedly offered N150 million for the project and to drop his political ambition of vying for any political office at all may have chosen to damn every consequence to carry out the Governor's request by ousting the Majority Leader, Barr. Oguike.
It will be recalled that some newspapers and radio stations speculated that the plot to impeach the Deputy Governor was first mooted at Ama-imo in Chief Charles Amadi's country home in a meeting he called at the instance of Governor Okorocha where 18 legislators in attendance were purported to have been promised over N1 billion if they are able to deliver on the plot. The second meeting was reported to have held in Governor's lodge with a follow up at G-Towers hotel, new Owerri, Imo State.
According to our source, the choice of Lugard Osuji is not unconnected with his position as one of those spear-heading the impeachment move obviously for his resolve of sacrificing Owerri zone agenda for having been promised speaker of Imo state House of Assembly in 2019.
Meanwhile, some Legislators have vowed to resist impunity in the House and will never embrace Hon. Lugard Osuji's appointment since it did not pass through due process and was never brought to the floor of the House for proper briefing and reasons for such change. As alleged, the previous alleged impeachment plot where Governor's wife was mentioned among others, Lugard Osuji was also prominently featured.
It will be recalled that the raging rift between the Deputy Governor, Prince Eze Madumere and his boss, Owelle Rochas Okorocha was purported to have stemmed from Deputy Governor's stance against some policies that are today causing disaffection and impoverishing the people of Imo State and his refusal to endorse Governor Okorocha's son-in-law for governor but rather presented himself as best candidate to take over from Governor Okorocha, come 2019.