New Ebola Case In Congo Sparks Fears In Nigeria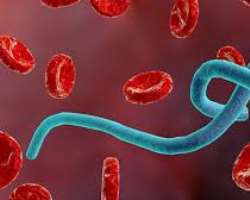 Palpable fear seems to have engulfed health authorities in Nigeria following fresh outbreak of Ebola virus disease in the Democratic Republic of Congo.
The fears pervaded the council chambers of the Presidential Villa, where the Federal Executive Council (FEC) usually holds, prompting a directive from Vice President Yemi Osinbajo to the Ministry of Health to step up surveillance against Ebola.
As at the last count, about 17 people were said to have died in an area of northwestern Democratic Republic of Congo where health officials have now confirmed an outbreak of Ebola.
It is the ninth time Ebola has been recorded in the central African nation, whose eastern Ebola river gave the deadly virus its name when it was discovered there in the 1970s, and comes less than a year after its last outbreak which killed eight people.
Isaac Adewole, Minister of Health, who briefed State House correspondents shortly after FEC meeting on Wednesday, said council ordered steps to be taken to keep the Ebola outbreak in Congo from entering Nigeria.
He said that part of the new measures to be taken is screening of passengers coming into the country.
Adewole explained, "Of course, of great concern to the Federal Executive Council is the outbreak of Ebola in DR Congo. As you might be aware, over the last one month, DRC recorded 19 suspected cases of viral hemorrhagic fever and lost 16 of the cases.
"But what is also particularly important was that on Monday, blood samples from five patients in the DRC, particularly in a particular district in DRC, two of the five cases, Ebola was actually confirmed.
"FEC has now directed the federal ministry to step up emergency surveillance activities at all land and airport borders, so that we can actually keep Nigerians safe.
"What we will do is to set up an emergency operation centre which will be chaired by Dr. Babasanya, who actually led our efforts in Liberia and Sierra Leone and Guinea during the outbreak in 2014.
"Not only that, we will be screening incoming passengers, particularly passengers from DRC and neighbouring countries. We will also ensure we step up all activities of screening people coming in so that we will not be caught unawares".
According to him, the Nigerian Centre for Disease Control (NCDC) will also consider sending some team to DRC as part of building capacity for managing the outbreak.
"We want to assure Nigerians that the Federal Government is concerned about the outbreak and will do everything possible to keep the country safe", he stated.
He noted that FEC also took updates of activities in the public health sector in Nigeria in the past few years.
He said, "We reported on the situation with Lassa fever and declared that we are declaring the emergency phase of Lassa fever outbreak over.
"Essentially, that implies that the emergency operating centre would be stood down but that instead of meeting everyday throughout the country, they will now meet once a week.
"They will still continue surveillance so that if there are cases anywhere in the country we can quickly detect it and then treat it appropriately", he said.
According to him, negotiations are still on over the strike action in the health sector.
He said, "Negotiations are still on with Joint Health Sector Union (JOHESU) and the Minister of Labour is leading the negotiation and we expect that we will conclude on all issues very soon".