Dambazau And The Turbaning Ceremony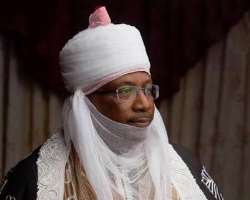 On May 11 2018, the ancient city of Kano will witness an influx of people as the doyen of creme de la creme in Nigeria would be converging the city for the turbaning ceremony of one of their illustrious sons, retired Lieutenant General Abdulrahman Bello Dambazau (CFR) who has just being conferred with the traditional title of 'Baraden Kano' by the Emir of Kano, His Royal Highness, Alhaji Muhammadu Sanusi || (CON).
The event which will take place at the Emir's Palace in Kano is very spectacular because the former Chief of Army Staff and current Minister of Interior will be the first to be honoured as 'Baraden Kano' in recent times by the Emirate since the title was adopted from the Sokoto Sultanate.
According to tradition, the prestigious title is given to valiant soldiers who exhibited high level of bravery during wars, but since there are no more wars in Hausaland or any part of the country, a subject of the emirate or member of the royal family who excels in his chosen career is honoured with the traditional title.
General Dambazau's role in extinguishing the fireworks of terrorism as former Chief of Army Staff as well as spearheading efforts to winning the peace after the war against terror in Northeast Nigeria as Minister of Interior is one of the many reasons he is being considered for the great honour.
Besides the fact that General Dambazau is the first former Chief of Army Staff to be honoured with the title, his patriotic and heroic role in safeguarding and preserving our democracy when the entire nation was embroiled in deep constitutional crisis is another strong factor eventhough some book makers have ignored it.
Born on March 14, 1954, General AB Dambazau began his military career at the Nigerian Defence Academy (NDA) after successfully completing his secondary education at the famous Barewa College, Zaria in 1974. At NDA, he was member of the 17 Regular Combatant Course and was later commissioned as second Lieutenant in to the Infantry Corps of the Nigerian Army in June 1977.
In 1979, General Dambazau attended the United States Army Military Police School in Fort McClellan, Alabama. Haven noticed that versatility is the key to overcoming the challenges posed by the realities of the 21th Century, in 1980, General Dambazau went to Kent State University in Ohio United States where he graduated with Bachelor of Science Degree (Bsc) in Criminal Justice. After completing his Master of Arts (MA) in International Relations as well as Master of Education (MEd) in Higher Educational Administration, between 1986 and 1989 General Dambazau was at the University of Keele in the United Kingdom to acquire his Doctor of Philosophy Degree (PhD) in Criminology from the renowned Institute.
Having served as Aid De Camp (ADC) to a former Chief of Army Staff in 1979 and also commanded the Military Police Units as well as serving as Special Investigator at the Special Investigation Bureau of NACMP from 1984 to 1985, General Dambazau was appointed as Registrar (Academic Branch) of the Nigerian Defence Academy (NDA) from 1993 to 1999. Thereafter, he served as Chief Instructor, Support Weapon Wing of the Infant Centre and School from 1999 to 2001.
Later, he served as Directing Staff and Director, Higher Military Organization and Operations at the National War College now known as the National Defence College from 2004 to 2006. Thereafter he was a Principal Staff Officer at Army Headquarters as the Chief of Army Standards and Evaluation before he was appointed the General Officer Commanding 2nd Division Ibadan from 2007 to 2008. Haven distinguished himself in various task handed down to him by the Federal Government, in August 2008, General Dambazau was appointed as the Chief of Army Staff; a position he held until his retirement in September 2010.
Also worthy of note is the fact that Dr. AB Dambazau was once a part-time Lecturer (Gratis) at the Ahmadu Bello University (ABU) Zaria; where he taught his students Criminology at the Faculty of Law. Outside the military, Dr. Dambazau is also an erudite scholar and author of five widely read books as well as several academic articles in notable journals.
General Dambazau is also a member of several international and professional organizations such as the World Society of Criminology, World Society of Victimology, Academy of Criminal Justice Sciences, American Society of Criminology, British Society of Criminology, International Police Executive Symposium and Fellow, Institute of Public Relations.
Before his current national assignment, General Dambazau was the Board of Trustees Chairman and founder, Foundation for Victims of Child Abuse (VCAF) which is dedicated to the victims of child abuse in Nigeria. In recognition of his several services to the nation at various levels, the Federal Government of Nigeria honored him with a national honor of the Commander of the Order of the Federal Republic (CFR) and the National Productivity Order of Merit Award.
General Dambazau is also the Ochiagha 1 of Egbelu Umuekwune in Ngor Okpala Local Government Area of Imo State; a chieftaincy title earlier given to him in recognition of his excellent services to the nation.
Nevertheless, before his appointment as Minister of Interior, Dr. AB Dambazau was Senior Fellow of the Centre for Peace, Democracy and Development, University of Massachusetts, Boston. He was also a Fellow and Associate of the Weather head Centre for International Affairs, Harvard University, all in the United States of America. As a Visiting Professor, General Dambazau had delivered several lectures including the famous one he delivered at the Department of International Affairs and Strategic Studies, Igbinedion University. He was Board Chairman of different organiations, notably Board Chairman, University Advancement Centre, University of Ibadan before his appointment as Interior Minister by President Muhammadu Buhari in 2015.
Let it be understood also that General Dambazau is one of the unsung heroes of our democracy because if he had not fully supported the circumstances that led to the adoption of what is now known as the 'Doctrine of Necessity' in 2010 even when there was no provision for that clause in our constitution at that material time, additional history pages or chapters would have been created or added to our democratic struggles. But as then Chief of Army Staff with high integrity, discipline and great respect for democracy and it's institutions, General Dambazau allowed 'Doctrine of Necessity' to come in to force before subsequent constitutional amendments incorporated the clause in to relevant sections of the constitution.
Finally, I want to end with a quote from Calvin Coolidge who said: "No person was ever honoured for what he received. Honour has been the reward of what we gave." Therefore, as the world converge in the ancient city of Kano to honour a man who has given all he has for the good and development of the nation, there is no better way to felicitate with him than saying 'Thank you and God bles you.'
Comrade Edwin Uhara writes from Abuja.
Disclaimer:

"The views/contents expressed in this article are the sole responsibility of the author(s) and do not necessarily reflect those of The Nigerian Voice. The Nigerian Voice will not be responsible or liable for any inaccurate or incorrect statements contained in this article."