Gowon Warns Against Buhari's Impeachment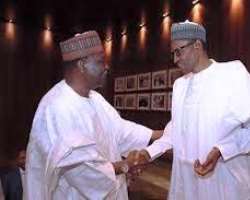 Former Head of State, General Yakubu Gowon (retd) Thursday cautioned against the removal of elected officials particularly the President, saying doing so would not augur well for the nation's fledging democracy.
Gowon stated this in Abuja on Thursday while playing host to members of the Northern Leaders and Stakeholders Assembly (NLSA) who paid him a courtesy visit. General Yakubu Gowon (Rtd) While noting that disagreements remain vital components of a democracy, the elder statesman said such disagreements could be handled differently without necessarily taking the impeachment option.
Gowon who presided over the affairs of the nation and oversaw a 30-month old civil war said this against the backdrop of the submission of a report on motion for the impeachment of President Muhammadu Buhari over the purchase of $496 million Tucano Aircrafts without legislators' approval. He said: "It may be too early in the day to start impeaching Presidents in Nigeria. Otherwise, there is no President that will not get impeached because of these interest groups. He called on the different groups in the North to come together to project a common front adding that too many groups could send wrong signals to other parts of the country.
"We need to come together as a people. The Arewa Consultative Forum, Northern Elders Forum and the Northern Leaders and Stakeholders Assembly should come together or we would end up polarising the North," he warned. Chairman of the Forum and former Presidential adviser, Alhaji Tanko Yakassai in his opening remarks said the group is committed to sustainable peace and harmonious co-existence of all ethnic nationalities in the country.
While noting that members of group were free to belong to any political party of their choice, Yakassai said NLSA has constituted six sub-committees on national unity, security and restructuring among others, adding that it would soon hold a northern political summit to deliberate on the democratic future of the nation. Yakassai further noted that the group was not constituted to search for a consensus Presidential candidate from the North, contrary to some media reports, stressing that NLSA's primary motivation is the promotion of unity and well being of Nigerians through the evolution of a national blueprint to address the challenges of the nation.
Present at the Yakubu Gowon Centre, venue of the meeting were former Speaker of the House of Representatives, Honourable Ghali Umar Na'aba, ex- Deputy Senate President, Ibrahim Mantu, Senator Joseph Waku, erstwhile Federal Capital Territory Minister, Mohammed Abba Gana and a one-time Minister of Women Affairs, Hajia Maryam Inna Ciroma amongst others.
-Vanguard-