Power of Sacrifice (Christian Book Review)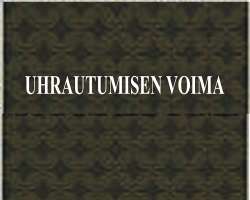 Sacrifices are powerful. Very Powerful! The richest man, the strongest man, the most blessed men and women, the wisest, the greatest king, the most powerful prophets were all men and women of sacrifice. They gave all, risked all for their people, humanity and for God to achieve their goals and feats that even eternity will be proud of. You want to know their secrets? Good. If you want to become great, you must first become a man/woman of sacrifice. All things are possible to them that can pay the price. You will find these highly revealing chapters – Power of Sacrifice, Sacrifice Your Only, I Will Pass Through Egypt, I Will Pay The Price, Follow Me! We Came For You, I Will Preserve You, Cook That Last Meal, Power to Save, Praise, Prayer and Fasting.
We have not only discussed the great sacrifices of great men and women in the bible and how their actions made them great, but also people like Yonatan 'Yoni' Netanyahu of Israel; the young Israeli who led the commando unit to rescued the Jewish hostages who were kept in Entebbe airport after their plane was hijacked and diverted to Uganda in 1976. We also looked at some of our military heroes, especially those of the Special Operations – like the SEALs, Delta Force. These men give their best; constantly risk everything, including their lives to defend their people and humanity. They sacrifice their lives to protect others. Jesus said that the greatest sacrifice is for a man to give his life for others. We salute them!
They teach us what sacrifice should be. We praise their courage and extreme patriotism. Here, we will learn about sacrifices of faith, kindness, patriotism, prayer, fasting and praise. When you go beyond the ordinary in any of the above, you immediately set off divine, unseen, supernatural forces that will respond, rush towards you. This book was authored by Gabriel Agbo, a journalist and minister from the Assemblies of God and can be found on amazon.com and all other book sites. It is also in French, Spanish, Portuguese, Italian, English, Afrikaans, Finish, Swedish, etc. Website http://www.authorsden.com/pastorgabrielnagbo Tel: 08037113283. e-mail: [email protected]