MAY DAY: No Hope For Delta Workers As Okowa Awaits Paris Club Refund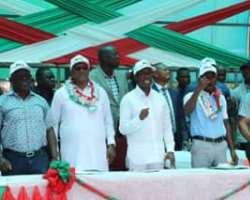 Expectations of workers in Delta State may have been dashed following the announcement by the state governor Ifeanyi Okowa that until the Muhammadu Buhari-led federal government releases the next tranche of the London Paris Club Refund, issues of salary arrears may not be looked into.
The workers, who were gathered in their large number at the popular Saint Patrick's College (SPC), booed the governor when he said, "today by the special grace of God at the state level we have being able to clear all arrears of salaries. I am not owing salaries at the state level".
The governor's statement provoked the workers who shouted "no no no no", however, Okowa took a swipe on them and said, "If we understand the English that I have spoken, "at the state level I am not owing salaries and I know that is true".
Okowa who agreed that salaries arrears of local government are being owed said, "because of the superior management of JAAC even in very serious circumstances, we have found that in the last several months salaries of local government council workers and teachers have been paid but there are still arrears", stressing that one month arrears for the teachers have been cleared.
According to him, "we are beginning to clear the arrears of the local government workers and we are looking forward that when by the grace of God the next Paris Club is released, we will tackle that problem head-on and ensure that the arrears are cleared.