Adamawa Govt. confirms 27 dead from Mubi twin blast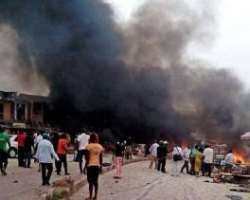 Adamawa Government has confirmed 27 dead and 56 injured from Tuesday's twin blast in Mubi town, the News Agency of Nigeria (NAN) reports.
The state Commissioner of Information and Strategy, Ahmad Sajoh, made this known in a statement made available to NAN in Yola.
The statement said that the 56 injuried persons were on admission in hospital.
Sajoh said the blast occurred in Kasuwan Gwanjo (second hand clothes market) and a mosque within the market.
"While condemning the satanic, cowardly and dastardly act, His Excellency Sen. Mohammed Umar Jibrilla Bindow, the executive Governor of Adamawa State, had ordered the immediate provision of medical supplies and mobilization of medical officers to the general hospital in Mubi.
"In addition, the Adamawa State Emergency Management Agency (ADSEMA) had been ordered to supply food and non-food items to the hospital to cater for victims and victims relations."
The statement urged people to donate blood and be more vigilant and reiterated the government's commitment to protection of lives and properties of all citizens.
It also called for calm and resilience. (NAN)