Nigeria under Buhari is like an aircraft whose pilot has gone missing – Nobel laureate Soyinka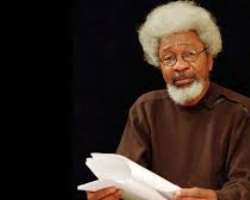 Nigeria under the leadership of President Muhammadu Buhari is like an aircraft whose pilot has gone missing, leaving the controls in the hands of his family members, Nigerian literature Nobel Laureate, Professor Wole Soyinka, said on Monday.
Professor Soyinka warned that Africa's most populous nation was at the risk of genocide, warning that a repeat of the Rwanda genocide was looming over Nigeria.
He said killings by herdsmen and Boko Haram were threatening the stability of Nigeria, and failure to act now might lead to a catastrophic disaster.
Professor Soyinka made the call in a statement issued in commemoration of this year's workers day, according to Channels Television.
The warning came just hours before Mr. Buhari and President Donald Trump meet at The White House.
"Where was the Captain, Somewhere along the aisle, saluting the passengers, all quite proper, and indeed encouraged by regulations," Professor Soyinka said of Nigeria under Buhari referring to his analogy of a missing pilot.
"He had placed the plane on auto-pilot, just as this nation has been for some time, so he walked between the seats, dispensing and acknowledging greetings, it was a long flight to Hong Kong, after all.