YUSUF ALI: Golden Fish Has No Hiding Place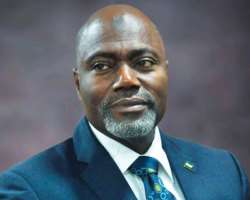 The proverbial golden fish that has no hiding place appears to have taken its deep meaning on Mallam Yusuf Ali, SAN, the Pro-Chancellor and Chairman of Council, Osun State University who has been selected to receive the prestigious 2018 Peace Humanitarian Award today, 28th April, 2018 by the Center for African Peace and Conflict Resolution (CAPCR) at the California State University, Sacramento, United States of America.
According to the Center, the award is in recognition of Yusuf Ali's ''distinguished contribution of his talent, time and treasure in promoting peaceable communities, institutions and organisations as well as numerous charitable works in various parts of Nigeria''. It added that his ''outstanding legal practice, service in Track 11 diplomacy and various philanthropic works are exemplary and worthy of precognition.''
Some of the past recipients of the Peace Award include – Archbishop Desmond Tutu, Honourable Barbara Lee, US Congresswoman, Judge Barry Loncke of the Superior Court of California, and the first female and immediate past Chief Justice of Ghana, the Honourable Justice Georgina Theodora Wood among others over the past 27 years.
Yusuf Ali is a gem, a welfarist and a rare Nigerian who is very selfless and absolutely committed to fairness, justice and equity. He has contributed immensely to the well-being and improved standard of living of many rural communities particularly in the Kwara State of Nigeria.
He started his early life at a Quranic school, in Ifetedo, Osun State from where he went for his primary education in 1960. After this, he attended the then Modern School for three years and worked briefly thereafter before he gained admission to the Ibadan Boys High School for his secondary school education. He was the Labour Prefect during his time and passed his school certificate examination in Grade 1 division. He later worked as a clerical officer in the old Oyo State Ministry of Finance and as a Tax Officer at Igbo-Ora, in Oyo State.
He gained admission into the University of Ife (Now Obafemi Awolowo University Ife –Ife) in 1978 and graduated with a Second Class Upper Division in the Bachelor of Laws degree in 1982. He was a winner of the prestigious Federal Merit Award and a university scholar during his undergraduate days at Ife. He attended the Nigerian Law School, where he also passed with a Second Class Upper Division in 1983.
Few years after a very aggressive legal practice at the Law firm of Adegboyega Awomolo which he joined in 1983 and rising through the ranks to become a partner before he founded his own law firm in June 1994, Yusuf Ali went back to his alma matter for his LL.M which he completed with flying colours. He was appointed as a Notary Public in 1989 by the Chief Justice of Nigeria.
In 1997, Yusuf Ali bagged the prestigious honour of the Senior Advocate of Nigeria. He is a Fellow of the Chartered Institute of Arbitrators (FCIArb) UK, Fellow Dispute Resolution Institute (F.DRI)., Fellow Society for Peace Studies and Practice (FSPSP) and many others. He is a Life Member, Body of Benchers. He once served as the Chairman Kwara State. Law Reform Committee, Sole Judge of the Kwara State Local Government Election Appeal Tribunal in 1997 and Chairman, Council of Public Defenders, Kwara State.
He is a member of the Legal Practitioners Disciplinary Committee of the Body of Benchers, Chairman Judiciary Committee of the Nigerian Bar Association and also the current Chairman of the International Bar Association Committee on Damages and Negligence. He is a Patron and Legal Adviser to many professional and socio-cultural groups all over Nigeria.
Yusuf Ali has delivered more than 200 papers on different and diverse topics both in Nigeria and at International fora including the International Bar Association conferences, Commonwealth Law Association conferences, Annual conferences of the Nigeria Bar Association while he has also contributed many chapters to various legal books with more than 40 articles in learned journals in the field of litigation, Commercial Law, Jurisprudence and Constitutional Law.
He has been awarded more than 200 honours from within and outside Nigeria and listed in the American Biographical Institute's Who is Who. He also bagged the 'Lifetime Achievement Award by the Governing Board of Editors of the American Biographical Institute, Kwameh Nkrumah leadership Award 2010 Africa Legal Icon by All Africa Students' Union and the Award for Selfless Service and Immense contribution to the Promotion of Peace and Stability in West Africa, by the West African Network for Peace Building, Ghana.
Mallam Yusuf Ali, like Anne Frank, believes that ''No one has ever become poor by giving''. He has thus over the years been very passionate about charity, intervening in many trauma cases, public institutions and creating hope and future for many indigent students.
The Osun State University Community is proud of Yusuf Ali's achievements and associates with him on this memorable occasion. In his goodwill message, the Vice Chancellor, Professor Labo Popoola said "I have always known Mallam Yusuf Ali, SAN from a distance because of the quality of human being he is until I gave a lecture at the Obafemi Awolowo University, Ile-Ife where he was also present. Yusuf Ali is a very decent, cultured and selfless personality and I say this decisively. He goes for any cause he believes. One other thing that strikes me about him is his attitude to wealth. Within the context of our society he is not poor but he neither flaunts his wealth nor creates barrier between him and others. He mixes freely to the extent that you cannot easily identify him as a star. He eats what others eat openly and cracks a lot of jokes. For him to be identified and given the prestigious 2018 Humanitarian Peace Award by the Center for African Peace and Conflict Resolution (CAPCR) at the California State University, United States of America is most appropriate and well deserved honour. I can only pray God to preserve his life and increase his wealth and wisdom."
The Registrar, Mr. Gafar Adebayo Shittu also said "His appearance, life style and attitude make him a distinct elite who accommodates the masses. On his swearing in as the Chairman of Governing Council of Osun State University, the statement made in his remarks not to receive any allowances from the University through the period of his service is a demonstration of his ideology for selfless service. It is a rare quality amongst Nigerians. One is never disappointed because Mallam Yusuf Olaolu Ali, SAN merges his utterances with actions.
He is a lover of peace who believes in mediation and amicable settlement. He proved this quality in the University when he constituted Mediation and Conciliation Committee of Council that resolved the protracted legal issue between the former Management and the University on out of Court terms which was recorded as a positive development for the University. The Chairman of the Governing Council, Mallam Yusuf Ali, SAN believes in transparency, justice and fair play. For the first time in the history of Appointment of Principal Officers for the University, he introduced openness to the processes and procedures by inviting all the Unions representatives in the University and Students' Representatives to the Selection Interview of Principal Officers.
He did this when the incumbent Vice-Chancellor, Professor Labo Popoola was being interviewed in November, 2016 and during the interview of the newly appointed Registrar and Bursar in February, 2018. He does not believe in religious bigotry. He understands perfectly what the Qur'an and Hadith say about good neighbourliness, good relationship with fellow- beings and rights of individuals according to their beliefs, which are always being upheld by this fine gentleman.
Our chairman is a leader and a philanthropist to the core. He donated a hostel to the College of Law, Ifetedo Campus of the University in year 2011, when he had not even been appointed as Pro-Chancellor and Chairman of Council of the University. It was also noted that Mallam Yusuf Ali, SAN donated a hostel to Fountain University, Osogbo in 2017 and an ICT building with all facilities to the Kwara State Polytechnic, Ilorin in December, 2016 as part of his contributions to education development in Nigeria. May you live long in your service to Humanity and Almighty God."
While the Bursar, Mr. Bola Feruke believes the Chairman of Council, Osun State University is bound to bag more laurels "Honestly, I was never opportune to meet the Pro-Chancellor and Chairman of Council until now.
Although I have always been reading about him on the pages of the newspapers as a shining star in legal profession. He believes absolutely in equity and justice. For instance, I did not know anybody before attending the interviews for the post of the Bursar of the University. But he conducted the interview with utmost fairness and justice. He believes in merit and such people are rare in our society. He is very sociable and his coming on board of the university is a blessing. He is bound to have more laurels. I wish him the best in this future endeavours."
And Mr. Maxwell Oyinloye, the University's Librarian says "Congratulations Sir, for winning such a prestigious award. Truly, the commendation is not surprising knowing the unique grain and mettle of your essence. Your dedication, enthusiasm and insight are really inspiring. The honour is not only for you but rather for us all because it is a worthy laurel coming at the right time to our Pro-Chancellor and Chairman of Council . You are our shining star. May Almighty Allah endow you with long life, good health, wisdom and understanding as you selflessly serve humanity. I wish you many years of great achievement
*Professor Anthony Kola-Olusanya is a staff of Osun State University, Osogbo, Osun State.