2019 DTHA: Izeze Declares For Second Term, Promises More Dividends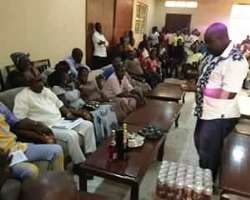 Ahead of the 2019 general election, the member representing Ughelli South Constituency in the Delta State House of Assembly (DTHA), Comrade Rueben Izeze, has declared his intention to run for a second term to represent the people of Ughelli South in the House come 2019.
Speaking while formally declaring his intention Friday in a meeting hosted at the Otu-Jeremi residence of Dr. Adogbejire Ideh, the lawmaker informed the gathering of his ambition.
Hear him: "My ambition to represent my people again is borne out of my desire to add more values to the lives of the people and to complete all the projects we have started, I will continue giving Ughelli South a better representation like we have been doing", he promised.
He continued: "We promised our people effective representation and robust legislation which we have effectively done by adding value to our constituents through the sponsoring of six people oriented bills and co-sponsored others, empowering of our women and youths"
He listed some of his projects to include, complete renovation and equipping of the labour room at Otu-Jeremi General Hospital, provision of Agbaghare Community transformer, provision of Electric Poles to Imode Community to replace those damaged by rainstorm, facilitated jobs for over nine constituents.
Others are, construction of four block of classrooms at Ogbavweni Secondary School, Usiefrun, (Constituency project), Gbarigolor Secondary School, (Constituency project).
According to him, "these and many more we've done through the instrumentality of the mandate given to me", he added
In his response, Dr. Ideh, said, Izeze is tested and trusted with land mark achievements as a true legislator in the 6th assembly.
The declaration was well attended by party Excos, party leaders and party faithful in the council area.