Artmosphere Curates the Young, Energetic and Disruptive Edition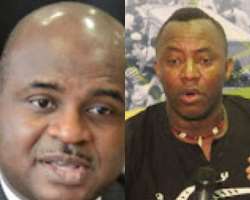 The Young, Energetic and Disruptive (YED) edition of Artmosphere Nigeria will play host to Adeeko Ibukun, A Babishia Niwe laurelled poet and member of the Take It Back Movement, and Fisayo Ajala, a young scholar and social activist at Spaces4Change on a culture conversation on the 28th of April 2018, at the 411 Bar and Lounge, Bode Thomas Road, Lagos.
The event is the first edition of a Conversation Series on politics, governance and social discourses. These two Nigerian citizens and intellectuals will be engaging the public and the political space on the manifesto, credentials and potentials of the presidential candidates, Omoyele Sowore, founder of Sahara Reporters, and Kingsley Mohgalu, Former Deputy Governor of Central Bank of Nigeria. Adeeko Ibukun is an active volunteer of Omoyele Sowore's Take It Back Movement, which has travelled across the country campaigning for change in the presidency come 2019 while Fisayo Ajala has been a constant reader, follower and campaign manifesto of Kingsley Mohgalu, his views on nation building aligns with Mohgalu's presidential agenda.
The Conversation Series is aimed at public engagement and enlightenment on burning social and political concerns in the country. It is poised to engage objectively the developments in the body polity and raise the awareness of the citizenry to a point of informed participation and action. The series will engender an informed judgment, it will make the people negotiate points of agreement and departure on social, economic and cultural aspirations with its leaders through the empowerment of the platform. The conversation series also hopes to find intersections between the arts, discourse and governance.
Femi Morgan, curator of Artmosphere noted that the Conversation Series was 'inspired by the need to deal with silences between the leaders and the led, by engaging the political, social and economic aspirations of the people and making sure that they critically dictate the agenda of the political class. It is an alternative parliament where pertinent social issues will be objectively engaged by the people in accordance with their fundamental freedoms''.
Artmosphere is a leading culture, conversation, literature and arts event which has been curated for seven years. The initiative has hosted poets, playwrights and intellectuals like Niyi Osundare, Tanure Ojaide, Doig Simmond, Sam Omatseye, Tunde Adegbola, Victor Ehikhamenor, Jumoke Verrissimo, Tade Ipadeola, Efe Paul Azino, Dami Ajayi and others.
The YED edition was made possible by crowd funding and support of patriotic SMEs in the country.
Venue: 411 Bar and Lounge, Bode Thomas Road, Surulere
Date : Saturday, 28th of April, 2018
Time: 2.00PM