Nigerian Youths Are Not Lazy, Says Ambassador Osakwe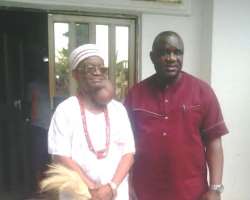 As reactions continue to trail the comment of President Muhammadu Buhari over the laziness he attributed to Nigerian youths. The founder of Felix Johnson Osakwe Foundation, Ambassador Johnson Osakwe has said that Nigerian youths are the strongest youths in the world.
Ambassador Osakwe stated this when he paid courtesy visit to the Iyase of Asaba, Chief Patrick Isioma Onyeobi, to receive blessings over his plans to establish a foundation, known as "Youth Movement" in Delta state.
According to him, although, "I have not been privileged to listen to the comment credited to Mr President, but that is not the issue, whether he said it or not, I want to sincerely let you know that Nigerian youths are not lazy".
"I have been to many countries in the world; I have never seen where youths sell water and other things along the streets under the rain and sun shine, so the strongest youth ever are Nigerian youths".
He said that the foundation is geared towards helping the youths realizing the potentials in the youths and to let them know that they can make possible impact in the society.
Osakwe, who disagree with the saying that the youths are the leaders of tomorrow, stressed that youths would start its leadership today, as he noted that his movement is out to correct that impression.
On corruption, Ambassador Osakwe, said that Nigerians are being deceived by the international body to believe that all Nigerian are corrupt, "If you do a research you will find out that less than 5% are actually corrupt".
He continued: "So our youths are vibrant and they are highly intelligent, they can do a lot, that's where my movement comes in to give them hope and to teach them ways to select a rightful leader that can represent them well. The movement is over a year. We have been in Rivers, Lagos, Abuja, Bayelsa, now in Delta state, after that we move to Osun state and the 36 states".
He explained that his foundation has placed several youths on scholarship while others are given cash to start one business or the other.
Responding, the Iyase of Asaba, Chief Patrick Onyeobi, thanked Ambassador Osakwe for his efforts geared towards assisting the youths, noting that the quality of youth determine the quality of the nation.
He assured the foundation the support of Asaba palace in achieving his aspiration, "We, in Asaba, we will give you total support to achieve your aspiration especially in ensuring that our youths are taught the right way"
Ambassador Johnson Osakwe and the Iyase of Asaba, Chief Patrick Onyeobi
L-R:Chief (Mrs) Sandra Damian, Iyase of Asaba, Chief Patrick Isioma Onyeobi, 2nd from right, Amb. Felix Johnson Osakwe and Public Relations Officer, Asagbe in Council, Mr Jude Onyetenu