Over one million voters have permanent voter cards in Osun -INEC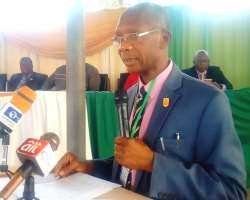 The Independent National Electoral Commission (INEC) today declared that over one million eligible voters in Osun State have permanent voter cards and qualify to vote in the September 22nd governorship election in the state.
The Osun State Resident Electoral Commissioner of INEC, Mr Olusegun Agbaje told The Nigerian Voice that 411,438 Permanent Voter Cards (PVC) have not been collected by the owners.
He said the continuous voter registration exercise has been put on hold in the state until further notice to enable the Commission prepare for the election.
The REC said those captured in the last continuous voters registration exercise would still undergo Automated Finger Identification System before their names would be ratified and added to the present list of registered voters in the state.
Agbaje assured that all the registered voters would get their PVC before the forthcoming governorship election in the state to enable them participate in the election.
He also hinted that all INEC card readers have been upgraded and enhanced for optimal performance.
Agbaje solicited the cooperation and supports of all the people of Osun State, particularly the stakeholders including the traditional rulers and the media to make the election successful.
He assured the people of the state that the governorship election would be free, fair and transparent.