Segun Adewale Picks ADP Nomination Form, Vows To End Political Hegemony, Continuity Of Poverty In Ekiti.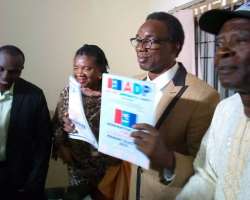 The leading aspirant in the Ekiti gubernatorial election under the platform of the Action Democratic Party (ADP) has said that he will end continuity of ravaging poverty, political hegemony and under development in Ekiti State.
Adewale made this disclosure at the National Headquarters of ADP in Abuja on Wednesday while granting an interview to the media shortly after obtaining his nomination form.
Adewale who picked the party's nomination form as required by the electoral law of the Independent National Electoral Commission (INEC) has expressed confidence that he will emerge the party's flagbearer and be the first Governor the party will produce in Nigeria.
Adewale who is also popularly called 'OSAPrapra' by Ekiti natives has been making tremendous impact since he joined the governorship race. Adewale within a short period of time has been able to register his name as an household name in Ekiti, he is well loved and has continued to receive massive support from the Ekiti electorate.
OsaPraPra as fondly called has become a name for both young and the old people in Ekiti, he is also very popular among the youths in Ekiti State.
ADP became a leading party in Ekiti State since he joined the party through his rigorous campaign, Adewale according to a source has toured all the 16 local government in Ekiti to make his intention to run known to the people, report from independent election monitoring group recently released put him ahead of any other aspirants in all other political parties in the state.
Adewale has said his main focus is to end poverty with massive investment in Agriculture, Entrepreneurship, Tourism and other sectors when made governor by the Ekiti people, expressing optimism that if Dubai that was a desert some years ago can become a world leading economy, Ekiti with a visionary leader like him can become economic hub of Nigeria and Africa.