Unimaid Graduates 14, 368 Students... As It Holds 23rd Combined Convocation on Saturday, 28th April, 2018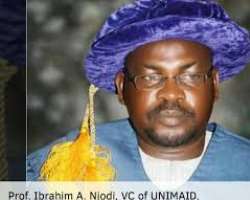 The University of Maiduguri has concluded arrangement and preparations to hold its 23rd Combined Convocation Ceremony of 14,368 students comprising of post graduates, under graduates and diploma students for the 2015/2016 and 2016/2017 academic seasons.
The Vice Chancellor of the university, Professor Ibrahim Abubakar Njodi who disclosed this Monday at a press conference in the institution's Council Chamber said despite the security challenges from the wake of the boko Haram insurgency, the institution has never closed for academic activities and has excelled tremendously in the past forty years as center of excellence.
The VC further explained that from the combined academic seasons, the institution will graduate 78 first class students and award Emiretus professorship to three distinguished senior lecturers of the university who have been with the institution contributing immensely to the development and progress of the university since the North East College of Art and Science ( NECAS), thus, its inception to date.
He however added that inspite of the fact that the university receives its salary monthly from the federal government, the institution still has some challenges that needed to be addressed by the government to include under funding of academic research and basic academic and infrastructural facilities and amenities on campus for both the students and lecturers.
Others include the need to increase the admission number from 9,000 annually to accommodate the high number of potential candidates or applicants which runs between 29,000 to 37,000 within the catchment area of the university.
Professor Njodi said President Muhammadu Buhari is expected as Visitor and will commission the new ultra N1.5 billion modern senate building. Governor Ibrahim Gaidam of Yobe state will commission the newly constructed multi purpose lecture theater (Mega House), Governor Kashim Shettima of Borno state will commission the newly constructed Veterinary Intra modern center and Governor Sani Bello of Niger State will commission the newly constructed intra modern Instructional Technology Entrepreneurship Complex.
He said so far both individuals and organizations have in one way or the other supported and contributed in building some structures while other negotiations are still in progress and some MOU has been signed. These organizations he said, include LNG, NNPC, USAIDS, TETFUND and INDIMI Foundation among others.
The VC also acknowledged the immense contributions and supports of Governor Kashim Shettima of Borno state, fatherly advice and guidance of Shehu of Borno, HRH, Alhaji Abubakar Garbai Ibn Umar El Kanemi, the elders of Borno, people of the host community of the university, students, staff and lecturers of the institution as well as the media for their coverage of the university activities.