Fountain university collaborates with US based Duke University on research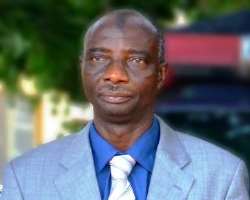 Professor Amidu Sanni Vice Chancellor of Fountain University,
The Fountain University, Osogbo, (FUO) Osun State and Duke University in Durham City, North Carolina, United States have collaborated on researches and other mutual benefits.
The spokesperson of Fountain University, Mr Rasheed Adebiyi said the Vice Chancellor of Fountain University, Professor Amidu Sanni who visited the US for talks with authorities of Duke University would deliver the Duke Islamic Studies Centre Lecture for 2018.
Adebiyi said the lecture titled Boko Haram in Nigeria: Issues in Ideological and Creedal (Mis)interpretations will be delivered at the Rubeinstein Library Carpenter Conference Room 249.
According to him, "The lecture will focus on rhetorical tactics and strategies of the dreaded Boko Haram terror group."
"Professor Sanni will also use the opportunity of the visit to Duke University to finalise talks on research collaboration between the university and Fountain University, Osogbo", Adebiyi added.
The two universities had earlier begun a bilateral talks on research collaboration, transfer of technologies and donation of medical equipment by Duke University to Fountain University.