Two Female Suicide Bombers Kill 1 , Wounded 2 in Maiduguri... As They Attack BRTV Transmission Station.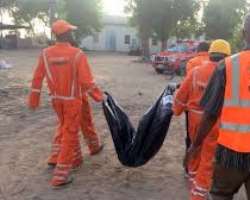 Two female suicide bombers attacked Borno Radio Television, BRTV newly upgraded Transmission station that was awaiting to be commissioned, killing one staff and wounding two security men on duty.
The incident which occurred about 11 pm Saturday night attracted the attention of the newly appointed General Manger of the BRTV, Alhaji Adamu A Abadam who inspected the facilities to asses the extent of damage at the premises.
Alhaji Adamu who led senior management staff of the BRTV to the site said government will take all the necessary measures to ensure that the facilities are reinstalled, restored and protected.
He also assured that no Stone will be left unturned to safeguard the lives of the working staff at the site which is located about 10 kilometers away from Maiduguri metropolis along Konduga- Bama road.
The General Manager also visited the state specialist hospital Maiduguri to sympathize with the two security men responding to treatment at the hospital.
He further led the management team to the family of the late staff to condole the family over the death of their colleague.
The team prayed for the repose of the gentle soul of their colleague and God to give the family the fortitude to bear the irreparable loss as well Jannatul firdausi to be his final abode.