Buhari's second term declaration a nullity: - says HURIWA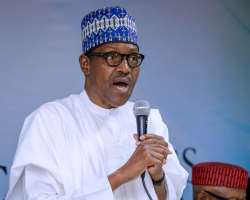 A leading pro-democracy and non-governmental organization - HUMAN RIGHTS WRITERS ASSOCIATION OF NIGERIA (HURIWA) has declared as a nullity, the declaration of intent by President Muhammadu Buhari through a front to run for a second term in next year's poll.
HURIWA has therefore asked President Muhammadu Buhari to as soon as possible, speak directly in a town hall consultative session or through a direct media interactive session, to Nigerians to inform the citizens of his intention to seek their renewal of mandates during the forthcoming presidential election in 2019.
The Rights group said the social contract binding Nigerians and the President as the elected head of government is valid only between the electorate and the person wielding the constitutional powers of the President of Nigeria for a given term usually donated through free, fair and transparent electoral process in a General election that is democratically conducted and supervision by members of the international community and the organised Civil society community within Nigeria.
HURIWA said since it has become a tradition with President Buhari to always deny knowledge of most of the official infractions by his subordinates, it will amount to hear-say for Nigerians to accept hook, line and sinker, the public relations gambit of the presidential assistant on new media who out of the abundance of disrespect for Nigerians, chose to communicate such a weighty message on the new media to tell Nigerians that their current President will rerurn in 2019 to ask for their mandate. The Presidency shoyld show the citizens some respect since the authority and legitimacy of his office for four years flows from the people of Nigeria who are the owners of the Sovereignty of Nigeria.
The Rights group also reminded President Buhari that 90 percent of the active electorate in Nigeria have no tweeter account, and thereby the Rights group is of the considered thinking that the mode of communication chosen by President Buhari may signpost his lack of respect for the good people of Nigeria most of whom have no functional social media accounts.
Besides, HURIWA said it was incumbent on the President to declare in person since it is him as a person who would seek the votes of Nigerian electorate and not through fronts nor is the election going to take place through the social media platforms.
"We are disappointed with the mode of public communication chosen by our President to inform Nigerians of such a very strategic decision. The president should apologize to us for this collective insult and should stage zonal consultative town hall meetings to be attended voluntarily and freely by Nigerian electorate whereby he will in person directly tell Nigerians that he has on his own volition, not by threats, coercion or blackmails, chosen to run for a second term. As far as the current mode of announcement is concerned, we think it is a nullity.
HURIWA recalled that President Muhammadu Buhari reportedly officially announced his intention to seek re-election in 2019.
This was the simple statement released by the President's Personal Assistant on New Media Engagement, Bashir Ahmad.
HURIWA said the tweet indicated that Buhari made the declaration on Monday morning (today) at the ongoing National Executive Committee meeting of the ruling All Progressives Congress.
HURIWA recalled that by April 1, while preparations had started among politicians for the elections, all eyes had remained on Buhari who had, until now, remained silent on whether or not he will seek re-election.