ACCI hosts Ukrainian Economic Development Minister, Others to business expansion forum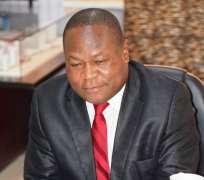 The Abuja Chamber of Commerce and Industry (ACCI) will host Ukrainian Deputy Minister of Economic Development and Trade, Mrs. Nataliia Mykolska and an expansive delegation of businessmen and investors to Nigeria to open up more areas of economic cooperation between the two nations.
This was contained in a statement signed by ACCI media and protocol officer, Mr. Lubem Gena and made available to newsmen in Abuja.
The statement quoted the Chamber's President, Prince Adetokunbo Kayode as saying the chamber is facilitating the event.
According to Prince Kayode, the delegation will also include the Deputy Minister for Agrarian Policy and Food of Ukraine Mrs. Olga Trofimtseva, Vice President of the Chamber of Commerce and Industry of Ukraine Mr. Sergii Svystil as well as representatives of several Ukrainian companies working in several fields.
"The major areas of interest that have formed the fulcrum of this business forum include: international trade, agrarian and food industry, automotive and aviation, engineering and Information and Communication Technology (ICT), chemical and pharmaceutical production.
"During the stay of the delegation in Abuja on 6th April, 2018, for the Nigeria-Ukraine trade and investment forum, several other high profile government functionaries across the appropriate Ministries of Agriculture and Rural Development, Foreign Affairs; Industry, Trade and Investment among others will actively participate in the Business-To-Business forum that will take place during the event.
"A Memorandum of Understanding (MOU) for cooperation between ACCI and its Ukrainian counterpart will also be signed in the course of the events", Prince Kayode stressed.
He also stated that the business forum will provide another opportunity to activate contacts between Nigerian and Ukrainian entrepreneurs who are to be brought together to work on ways of doing sustainable business among themselves.
While calling on Nigerian businessmen and investors to use the avenue to trade among the two countries, Prince Kayode also enjoined them to make fruitful contacts among themselves and ensure that perspectives of bilateral economic, trade, investment cooperation between Ukraine and Nigeria are deepened.
It could be recalled that, the Ukrainian Embassy in Nigeria entered into a partnership with the ACCI with a view to jointly embark on trade and other business related activities as well as deepen economic partnership between both countries.
The Chamber has mobilised its members, the stakeholders, concerned authorities and resources to ensure that the trade mission by Ukrainian investors and business community as well as other commercial activities of the Embassy are of huge success.