North Korea's Kim Jong Un and his wife make surprise appearance at South Korean K-pop concert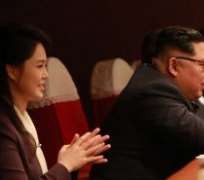 A day after North Korean leader Kim Jong Un made a surprise appearance at a performance by South Korean pop stars in the North Korean capital, South Korea was still digesting the rare instance of cultural diplomacy.
Kim and his wife, Ri Sol Ju, attended a concert by South Korean musicians in Pyongyang.
Members of Red Velvet, one of South Korea's top K-pop groups, sang their hits "Bad Boy" and "Red Flavor."
"There were more applause than we expected so we could relax and continue with our performance," Yeri, a member of Red Velvet, told South Korean reporters after the concert.
Reporters had originally planned to cover the event but were blocked from entering the venue over security concerns. Only one cameraman was allowed into the concert hall while everyone else had to watch the event on a television screen inside a backstage makeup room which reporters fiercely opposed.
Korea Pool/AP South Korean girl band Red Velvet is seen after their performance in Pyongyang, North Korea, April 1, 2018.
North Korea's national intelligence chief Kim Yong-chol apologized Monday morning to South Korean reporters for restricting their coverage during the concert. He explained that there was "confusion" regarding the event and asked for their understanding, an unusual apologetic gesture for a high-level North Korean official.
After the performance Kim and his wife met with the performers and shook hands with every singer.
"Many wanted to know if I would come to see Red Velvet. I rearranged my schedule to come to the concert today," Kim said. "This time the concert was under the theme 'Spring has come,' let it be 'Autumn has come' in the next autumn."
North Korea did not ask for any change in choreography or song lyrics, according to music director Yoon Sang and the South's protocol officer for the president's office.
The show's lineup also included a variety of slow-tempo songs that were chosen to please the North Korean audience.
Those in the audience sang "Let's meet again" and "Our wish is unification," a song about reunification of the two Koreas, together with the South Korean performers at the concert's finale.
Korea Pool/AP South Korean groups perform during a rehearsal in Pyongyang, North Korea, April 1, 2018.
None of South Korea's popular boy bands were invited to participate in the concert.
"North Korea is still very conservative about men singing and dancing," said Philo Kim, a professor at the Institute for Peace and Unification Studies in Seoul. "K-pop boy bands who show off their dynamic dance moves will be too much for people in Pyongyang to take in."
ABC News' Jaesang Lee contributed to this report.