Hold TY Danjuma Responsible For Any Attack On Nigerians, Group Tells FG, International Community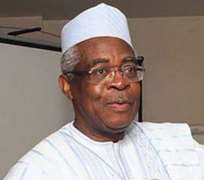 A Middle belt based civil society group, Middle Belt Conscience Guard has urged the federal government as well as international community to hold former Defence Minister, TY Danjuma responsible should the region descend into chaos.
The group which was reacting to TY Danjuma's call to residents to take up arms to defend themselves accused the former minister of defense of fueling crisis in the region.
Addressing journalists in Abuja, the National President, Prince Raymond Enero said the group will not hesitate to drag the retired general to court should the violence in the region escalate.
According to him, TY Danjuma should as a matter of urgency retract the statement and issue a fresh call for people to trust in the commitment of the state to peacefully address whatever challenges beset the areas affected by farmers/herders' clashes.
He said, "We therefore call on General Danjuma to clarify his comments because we are willing to accept the flimsy excuse that he might have mixed up what he intended to say on account of his advanced age. Where he fails to walk back his dangerous directive, we hereby put him on notice that he shall be held liable for any degeneration in the security situation in all the jurisdiction where he has called on people to resort to self help.
"He will be dragged before the competent legal authorities - domestic and international – for any life lost because of his declaration of war.
"The federal government and the Nigerian Army must on their parts ensure they are not caught unawares since Danjuma has made his intention known. They must escalate the mopping-up of illegal weapons in the affected areas.
"The intelligence community and the civil police must be activated to investigate the connections between those killing Nigerians under the cover of whatever crisis and those calling for people to bear arms against fellow citizens."
Enero said the military under the current leadership is under obligation to observe rules of engagement that meet international standard.
He said, "This military respects diversity. This military has a demand on it by Nigerians to respect democracy. This military is gone past replicating the massacre of innocent civilians at Odi and Zaki Biam.
"We suspect that the retired general would have preferred a repeat of Zaki Biam, when the military flattened an entire community under his watch as Minister of Defence. He had possibly expected that the army would have assisted him in carrying out the ethnic cleansing he has in mind. But our dear retired Lieutenant General TY Danjuma, the Nigerian Military of today is not the one you left behind as Minister of Defence."