Communications Minister Must Be Suspended; Investigated For Alleged Embezzlement- Says Huriwa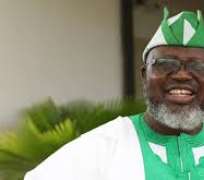 A leading Pro- Democracy and Non-governmental organisation- HUMAN RIGHTS WRITERS ASSOCIATION OF NIGERIA (HURIWA) has tasked President Muhammadu Buhari to prove his commitments to anti- graft war by suspending his communications minister Alhaji Adebayo Shittu and order his investigations by Economic and Financial Crimes Commission (EFCC); Independent Corrupt Practices and other offences Commission (ICPC) and the Code of Conduct Bureau following allegations of sleazy dealings made against him by his trusted aide.
HURIWA recalled that Mr. Victor Oluwadamilare, Special Assistant Media to Mr. Adebayo Shittu, Minister of Communications, had alleged that his boss in the course of his 29 months as minister has bought 12 luxury houses mostly in Abuja, Lagos and Ibadan, and
has acquired at least 25 Exotic cars within the same period.
HURIWA further recalled that the erstwhile media aide who accused Alhaji Shittu of excessive greed and monumental corruption alleged also that only recently the Minister bought a brand new printing press for N93 Million cash just as the former Spokesman made the allegations in a letter to the minister dated 12 March wherein he lamented that despite all his boss' alleged looting spree Mr. Adebayo owes him the sum of N13million in emoluments from November 2015 to the end of March 2018 and has refused to pay.
HURIWA quoted the spokesman as stating thus,:"Sir, within a space of 29 months in office, you now own no fewer than 12 luxury houses in Abuja, Lagos, and Ibadan. And a few months ago, you also bought a brand new N93 million printing press."
Also, said Mr. Oluwadamilare in the caustic letter, "you have bought over 25 luxury vehicles for yourself , family members, concubines, and cronies, despite having eight official vehicles attached to your office. "
The Minister has almost immediatelly denied the allegations of fraud and embezzlement made against him by his once trusted personal staff and had ordered his sack and replacement with another media adviser but HURIWA expressed consternation that the President has done nothing to demonstrate his resolve not to tolerate corruption and ostentatious lifestyles by any of his cabinet ministers.
"These allegations are not difficult or too complex to unravel because the man who has made them is said to be a very trusted personal staff of the minister who is willing to help the prosecution to ensure that the real facts behind these allegations are obtained. A reasonable is expected to have granted the man making the allegations fool proof security guarantee and protection and encourage him to list out these assets bought by the minister. The allegations if found to be truth then the minister must be sacked and prosecuted to serve as strong deterrent and may be restore the waning and rapidly collapsing anti graft crusade waged by the All progressives congress led Federal government of Muhammadu Buhari. This is the time for the government to act decisively to demonstrate a departure from the corrupt practice of protecting top ranking Presidency officials from investigations and effective prosecution. The disgraced erstwhile secretary to the government of the federation Babachir Lawal who is a bosom friend of President Muhammadu Buhari has still not faced critical prosecution by the Economic and Financial Crimes Commission but is being protected whereas other accused erstwhile top officials of the last Peoples Democratic Party (PDP) are harassed, intimidated, publicly embarassed by the Economic and Financial Crimes Commission and their assets confiscated even before the determination of matters instituted against them by the EFCC. Since the EFCC is afraid to arrest the communications minister even after this whistle blower gave our so much informations bordering on alleged embezzlement and Financial Crimes, we are left with the option of challenging the President to take steps to investigate his Political Man-Friday who has now been accused of serious fraud."
The Rights group cautioned the President not to let his sense of judgment on this sensitive matter be beclouded by the fact that the minister being accused is his number one boot licker and the defacto chief political sycophant who had even breached the nation's electoral Act to commence electioneering campaign for the incumbent President against next year's poll even when President Muhammadu Buhari has maintained sealed lips on his second term ambition but has shown elaborate body language depicting his overwhelming interest to recontest.
HURIWA said:"We are by this media statement urging the President to take a number of measures against the communications minister by suspending him from office and to order comprehensive investigations by all the relevant anti graft agencies to guide against compromise if only one law enforcement agency is invited to handle the probe of the series of allegations against the minister. This is another litmus test for President Buhari whose claims to transparency and anti-corruption credentials have suffered extensive global damage in recent times with the latest poor anti corruption rating by the Germany based global body- Transparency International. The World is watching to see whether this government will continue in the notorious practice of accomodating, pampering, protecting, dining, wining, and condoning corruption allegedly committed by the officials and political associates of President Muhammadu Buhari. We are giving this government 48 hours to take verifiable and transparent action to investigate the Communications minister or we adopt other civil process to mount pressure on Mr. President to do the needful in the present circumstances which may include taking a recourse to the competent court of law to compel the President to enforce the anti corruption law in this instance".
HURIWA said the erstwhile close aide of the communications minister made several earth shaking accusations against the member of the current Federal Cabinet which are weighty enough to have roused the President of the Federal Republic of Nigeria who has vigourously sought to publicise his administration's anti- corruption and pro-transparency postures since coming to office over three years ago just as the Rights group has challenged the President to take steps to avoid these range of extensive allegations of fraud and embezzlement to be swept under the carpets. "The loud silence of President Muhammadu Buhari to the celebrated accusations against his own minister of communications and his political associate is ominous".