Nawoj, Coalition Of Women Activists Condemns Rising Cases Of Rapes,kidnaps In Borno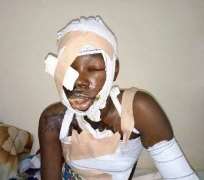 The National Association of Women Journalists (NAWOJ) and Coalition of Women Activists in Borno state have condemned the rising cases of raping, kidnapping and acid attack on innocent persons while boarding Tricycles and other ruthless attacks by suspected miscreants in the state.
The Women Groups cited an instance where a 26 year old Fatima Usman, final year student of Department of Nursing, University of Maiduguri is now battling for her life after an acid attack by two unknown tricycle/ Keke Napep Operators in Maiduguri Metropolis last Friday and the other person who were also bathed with acid today (Thursday).
Addressing Journalists at Nigeria Union of Journalists (NUJ) Press Centre in Maiduguri on Thursday, Chairperson NAWOJ, Hajiya Hadiza Bukar, who led other Women Groups, condemned these renewed attacks mostly targeted at women who are vulnerable, as according to her, most of these unfortunate happenings were carried out under the influence of drugs such as high consumption of cough syrup and other illicit substances among Keke Napep Operators and youths in the state.
"In view of recent happenings, Keke Napep which is the means of accessible transportation to our people, especially women, have now become a death trap. We therefore want to call on the relevant authorities to please reorganize the Keke Napep Operations for the better and purposeful services to the people.
"We are compelled to register our feelings, as mothers, we should also be motherly enough to check the behaviours of our Children for a better society". Bukar stated.
She however commended the Federal Government and all security agencies in the fight against Boko Haram insurgents in the north east, especially with the recent release and freedom of over 100 Dapchi Schoolgirls who were kidnapped few weeks ago.
Bukar also urged government to intensify efforts in rescue of the remaining Chibok Schoolgirls and all those held captive by insurgents.