The honouring of a Hajj reformist, Abdullahi Mukhtar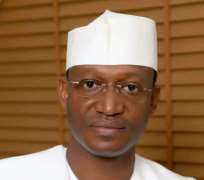 The Press Corps of the House of Representatives, in collaboration with the correspondent chapel of the Nigeria Union of Journalists (NUJ), FCT Abuja chapter recently found it worthy to recognize the achievements of over 50 Nigerian patriots in their different fields of life endeavour. It was tagged "maiden Dinner/Award of Excellence organized by the press corps to honour deserving lawmakers, ministerial departments and agencies (MDAs) as well as corporate organizations. Among the awardees was the man in charge of Hajj affairs in Nigeria, Bar. Abdullahi Mukhtar Muhammad, who received the award of the "most responsive CEO, corporate organization in the public sector". He was also honoured by Manara Satellite TV/Radio station. Those who can sincerely attest to the transformational indices going on in Hajj management in Nigeria will laud these recognitions.
The first event, held at Aso Hall of the International Conference Center Abuja on March 10, 2018, was the first time in almost 18 years of the existence of the House Press Corps. The second event by Manara held at Ladi Kwali Hall of the Sheraton Hotels and Towers same day. The essence was actually to brainstorm on ways through which the media can collaborate with the legislature and other institutions of Nigeria's government to achieve national development. That is because most public office holders invariably see the media as a partner that should be held at arm's length. Contrarily, media organizations believe that those who court the media in their public life stand a better chance of succeeding in their assignments.
According to the chairman of House Press Corps, Umar Muhammad Puma, the awardees were classified into four: serving members of the 8th House whose performances are outstanding, members of the 7thAssembly who have moved on and are doing excellently in different capacities, the National Assembly Bureaucracy and intuitions and organizations in the public and private sectors, which have conducted their activities as it concerns the National Assembly with utmost responsibility and integrity.
The awardees were selected after a painstaking assessment carried out by an Award Planning Committee led by the oldest serving correspondent in the House who is also a former chairman of the Press Corps, Philip Nyam. The criteria for selection included but not restricted to the number and quality of bills and motions sponsored, the quality of contribution on the floor and participation in committee activities, leadership qualities, constituent projects executed by members and their accessibility to media interrogation and enquires.
For the MDAs and other corporate organization, the committee considered their level of responsiveness to House committees' scrutiny and investigation, the integrity of their CEOs and their commitment to collaborating with the legislature and their openness to media enquiries.
In his recognition at Manara event tagged "Legacies of Hajj Operations and the Nigerian Question", the national chairman of Jama'atu Izalatil Bid'a wa Iqamatis Sunnah (JIBWIS), Sheikh Abdullahi Bala Lau, specifically mentioned the transformation of Hajj management in Nigeria under Barr. Muhammad. Said he: "The National Hajj Commission of Nigeria (NAHCON) under the leadership of Barr. Abdullahi Mukhtar Muhammad deserved a special mention. I commend the executive chairman and NAHCON as an agency for their selfless service for ensuring successful Hajj operations year in year out."
Abdullahi Mukhtar does not deserve less recognition, according to these laid down criteria for the awardees. He has done more than the organizers could recognize. Mukhtar is a man with great future possibilities. His rising political profile has yet no limit as he has proven to be able to effect change in any capacity amidst challenges. His abilities to transform Hajj operations in his state Kaduna and in Nigeria have been exceptional.
His history is full of revelations of a patriot born to conquer the oddities of life for excellence. He was educated at Yusuf Dantsoho Primary School, Anguwar Rimi and Rimi College before going for his Diploma in Chemical Engineering at the Kaduna Polytechnic and Advanced Diploma in Business Management at Abubakar Tafawa Balewa University Bauchi. He obtained a Bachelor of Law from Ahmadu Bello University Zaria, a post graduate diploma in International Law and Diplomacy, a Masters Degree in International Affairs and Diplomacy and was called to the bar in February, 2013.
His working experiences and capacities transcend the aviation industry, diplomatic and government organizations. Notable among them are Kaduna State Water Works, Kaduna State Muslim Pilgrims' Welfare Board as director of operations, consultant to Chanchangi Airlines in 1998 Hajj operations, officer of Pilgrims' Affairs Abuja, as a consultant for the Hajj 1999 operations, Kaduna State Muslim Pilgrims Welfare Board as Executive Secretary and the commissioner in charge of Operations in the National Hajj Commission of Nigeria (NAHCON). On 25thMay, 2015, he became the Chairman/CEO of the commission to date.
He has been involved in various community development programmes and is a member of various non-governmental organizations (NGOs) such as African Network for Prevention and Protection against Child Abuse and Neglect. He is a trustee of the I Care Women Youth Initiative, Green Heart Impact Initiative, FOMWAN, Kaduna State Chapter and the chairman of Al Amanah Foundation and Darun Na'eem Foundation, Abuja. He also founded the Open Heart Foundation, Kaduna.
His achievements in Hajj management at the state level include the expansion of Hajj awareness to the general public in Kaduna state through the famous FRCN Kaduna programme, Kalubalenku Maniyyata, the professionalization of Hajj by initiating IATA/UFTAA training and certification of his staff; instilling and maintaining discipline in pilgrims. He championed better accommodation for pilgrims under states, computerized the pilgrims' registration system in Kaduna which, by and large, eliminated Hajj slots hoarding and abuse. He also eliminated abscondment of pilgrims by introducing guarantors during Hajj registration, ensured early remittance of Hajj fares to NAHCON and secured a gradual increase in the allocation of Kaduna state which has become the state of the federation with the highest number of pilgrims.
His achievements in Hajj management qualified him recognition by President Umaru Yar'adua who bestowed him with the National Honour, Member of the Order of the Niger (MON) in 2010. This is in addition to 58 other recognitions in terms of awards and honours locally and internationally.
At the national level, he championed the direct landing of Nigerian pilgrims under the boards into Madina during Hajj. Other changes he effected are elimination of awaiting days by Nigerian pilgrims at Nigerian and Saudi Airports during outbound and inbound airlifts, improvement in standards of pilgrims' accommodation for Nigerians in Makkah and Madina through stringent inspectorate regulations, introduction of luggage and zamzam management system for Nigerian pilgrims, streamlining and sanitization of private Hajj and Umrah operators and operations and elimination of the sharp practices by briefcase companies in Nigeria and in Saudi Arabia.
He strives to enhance the legacies of Hajj through forging socio-economic ties with other countries and to boost the unity of the Nigerian Muslim Ummah which should remain united irrespective of ideological differences. His introduction of nationalism in all teams that participate in Hajj has been wonderful. There are now the national Ulama team, the national medical team, national reception team and the national media team. All the Nigerian Ulama gather on Arafat Day to pray for Nigeria in their different local languages irrespective of sect or ideology. Before, Nigeria used to operate in Saudi Arabia with many states having banners and stands at the Jeddah airport. Today, the unified Nigerian contingent to Hajj has changed to ugly tend.
He has utilized the numerical advantage of Nigeria being the 7th largest contingent in recent Hajj operations to improve efficiency in organizing Hajj. Service providers in Saudi Arabia who used to treat Nigeria with levity cannot do so now. That is why they are legally pushed every year in recent times to refund Nigerian pilgrims the services for which they are paid but they could not render. In addition to services rendered to pilgrims, some companies, upon the invitation of NAHCON are considering making investments in the hospitality, transportation and agricultural sectors in Nigeria.
As a closer observer, the greatest achievement of NAHCON is the stabilization of Hajj operations in Nigeria. Gone are the days when Nigeria sought for extension of deadlines for airport closure. The usual rowdiness associated with pilgrims' airlift both in Nigerian and Saudi Arabian airports has been virtually eliminated. Pilgrims now travel in a more organized manner with more comfort compared to what obtained before the establishment of NAHCON.
The Saudi Hajj authorities have commended Abdullahi's reign. Enough to mention is Dr. Farouq Al-Bukhari, the President of the United Agents Office in Saudi Arabia who recently said: "…in the last five years, Nigeria has come from being one of the worst to one of the best Hajj Missions in the world".There is a famous expression in English that: When the going gets tough, the tough get going. That is to say that when the situation becomes difficult, the strong will work harder to meet the challenge. For those who know Abdullahi, he is a parable of the tough who turn challenges to opportunities and weakness to strength. It is such characteristic and enigmatic nationalists that Nigeria requires to grow.
Abdullahi enjoys respect for constituted authorities and for the elders. He strongly believes in the legacies of Hajj, thus reveres the architects of NAHCON one of who is Dr. Usman Bugaje who, in one of his conference papers delivered in 1996 said: "Hajj is one source through which Islam is nourished and by strengthening it the government is helping its own war against crime and such other vices. Similarly hajj, like any journey abroad, is an effective education, and the more educated the citizenry the easier it should be for their government…Yet Hajj has always been and still remains one of the most effective international trade links, not only with the Middle East but also with the Far East.
Among the awardees were the Speaker, Rt. Hon. Yakubu Dogara; the Clerk of NASS, Alhaji Mohammed Ataba Sani-Omolori, Sokoto state governor, Hon. Aminu Waziri Tambuwal, Enugu state governor, Rt. Hon. Ifeanyi Ugwuanyi, the ambassador of the House and deputy speaker of the Pan African Parliament, Hon. Abdulrazak Namdas, former speaker, Rt. Hon. Dimeji Sabur Bankole, former chairman of the House committee on media and public affairs, Hon. Eseme Eyiboh, FCT minister, Mallam Muhammad Musa Bello, Governor of Central Bank of Nigeria (CBN) Godwin Emefiele, most responsive private sector CEO and founder of Aiteo Group, Benedict Peters, Hon. Femi Gbajabiamila, Hon. Leo Ogor, Hon. (Evang.) Ossai Nicholas Ossai, Hon. Nnenna Elendu-Ukeje, Hon. Binta Bello, director-general of NIMASA, Hon. Dakuku Peterside, minority leader of the 6th and 7th House and senior special assistant to President Buhari on National Assembly (House) Matters, Rt. Hon. Abdulrahman Kawu Sumaila, minister of state for foreign affairs, Hajiya Khadija Abba-Ibrahim and Hon. Abike Dabiri Erewa, senior special assistant to President Buhari on foreign affairs and Diaspora matters.
Muhammad Ajah is an advocate of humanity, peace and good governance in Abuja. E-mail [email protected]