Ogun State Suspected Mad man: Hunger Pushed Me To Kill Two Pupils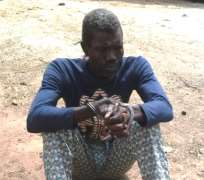 The suspected mad man, Lekan Adebisi, who hacked two pupils of St. John's Anglican Primary School, Agodo, Ogun Waterside Local Government Area, Ogun State, to death has attributed his heinous act to frustration and hunger.
The suspect said this while speaking to the media at the headquarters of Ogun State Police Command, Eleweran, Abeokuta, the Ogun State capital.
Adebisi who appeared incoherent during the interview said he had no food for two weeks and that nobody was ready to feed him.
Adebisi, who was reported to be mentally deranged, said he was ready to face the consequence of his action.
Asked why he killed the two pupils, he said, "I did not eat for two weeks and I went out to beg for money. Nobody gave me money. When I had money, I took care of family members, friends and even outsiders."
But journalists had to repeat the question since he strayed from the point, and he said, "It was due to frustration, it was due to frustration. When hunger gripped me and it became unbearable, I then thought about my life and I concluded and asked myself; what type of life am I living?
"It was a bad life, then I went and took cutlass and I was prepared to face the consequence."
Adebisi who said he was not yet married, said he used to organise lessons for children, and he got paid N20 for each child.
Parading the suspect Thursday, the state Commissioner of Police, Ahmed Iliyasu, who condemned the heinous crime, said Adebisi would soon be charged to court.
The victims, Mubarak Kalesowo, and Sunday Obituyi, were killed by the suspect on Monday 12th March, 2018.
The suspect was said to have stormed the school while the pupils were on lunch break and did the havoc before fleeing the scene.
He was however arrested, Wednesday, following a manhunt by combined team of youths in the area and hunters association.
He was later transferred to Ogbere Police Area Command where he was transferred to the headquarters.
-Independent-