2019: Senator Anyanwu Declares For Imo Governor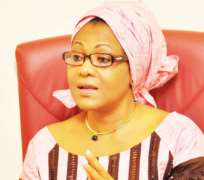 Thursday the 8th of March 2018 will remain evergreen in the minds of Amaimo people and environs; because it was the day their illustrious son in the person of distinguished Senator Samuel Nnaemeka Anyanwu (Sam Daddy) declared his intention to run for Imo Governorship race. At exactly 5.30pm on that day, the 1000 seating capacity hall in his compound was filled to the brim and the guests heralded Senator Anyanwu who came in dressed on white designed senator with red cap to match with shouts of "say Sam Daddy" "say victory" "say vox populi, say vox Dei rented the air as he moved into the hall.
Speaking to the mammoth crowd which Late Dr. Nnamdi Azikiwe will describe as "sea of heads" while alive, Senator Anyanwu thanked the people that came to witness his declaration. He told them that he is running for governorship under the People's Democratic Party (PDP) come 2019 to enable him save Imo People from the untold hardship, agony and sufferings they are passing through; due to the bad governance of All Progressives Congress (APC) led government in Imo state. Senator Anyanwu drew the attention of the gathering to the Holy Bible where Samuel was asked to go and anoint the king of Israel and the fight between David and Goliath, that resulted to King David defeating King Goliath.
Senator Anyanwu revealed that as a destiny child that he is around for a purpose and until that purpose is fulfilled, he will not rest. He told the mammoth crowd that if the yardstick for winning governorship is money, that money will come from the North, South, East, and West. He therefore called on Imo people to rally round him to enable him save Imo from the almost shit hole level it has found herself speaking after Senator Anyanwu declaration, Chief Joseph Ugwulebo the PDP Amaimo ward and the chairman of all Chairmen PDP Ikeduru described Senator Anyanwu as a goal getter, a youngman with great charisma, dynamism, vision and very intelligent who will give Imo people the best of Governance. He revealed that Senator Anyanwu is a man of the people who is guided by the Almighty God in all what he does. He therefore called on Imolites to rally around him to ensure that his ambition is met.
Speaking also, Nze Patrick Ejimonyeabala the Epum of Amaimo Ancient kingdom, described Senator Anyanwu as a wonder young man who is led by the spirit of God in all what he does. Nze Ejimonyeabala equally stated that the Governorship ambition of Senator Anyanwu is already sealed in heaven and on Earth and called on Imolities to join the moving train because definitely he will emerge as the next Governor of Imo State. In his own contribution, Engr. Chris Anaele a business man who is based in Portharcourt River State and an Indigene of Umuri Amaimo in Ikeduru L. G. A. of Imo State described Senator Samuel Anyanwu as a young man whose composure and comportment remains Impeccable at all times. He said that Senator Anyanwu will make a good Governor looking at his antecedents and pedigree in the red chambers of the national Assembly, Engr. Anaele posited that with his wealth of experience as two time local Government Chairman, two time House of Assembly member and a Senator, he is best qualified to rule Imo and save Imo from the deep valley she has fallen in due to bad Governance.
The declaration witnessed the washing of legs of Senator Anyanwu by the Ndi Eze and Palace Chiefs from Amaimo – Ikeduru. Dignitaries that graced the occasion include Hon. Victor Asams, Hon. Barrister Uche Igbokwe, Nze Patrick Ejimonyeaba, Hon. Joseph Ngwulebo, Hon. Chris Emma Alaribe, Engr. Chris Anaele, Chief Ikechi Emekwe, Mr. Chris Akaraonye and many other important personalities from Amaimo and beyond.