How and Why President Buhari Refused To See IGP Idris On Tuesday
...ignored him at President's reception room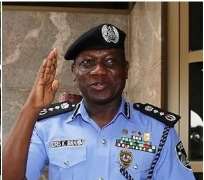 More facts have emerged on what IGP Idris encountered in a desperate effort to meet with President Buhari on Tuesday, 13th March 2018. This is contrary to reports that the President granted audience to the IGP.
It is an undisputable fact that the President did not meet with IGP Idris for reasons best known to him. However, analysts think that the President may be very disappointed with many controversies trailing IGP Idris. Among strongly speculated anomalies is the way and manner journalist Elombah was treated which attracted a lot of international condemnations thereby embarassing the Federal Government of Nigeria. The journalist who was arrested like a violent criminal was detained, abused in detention and in disobidient to court order was not released as instructed. Further reason why President Buhari snubed his Police Chief may not be unconnected with the embarassment at the President's visit to Benue. The President who was alarmed at hearing that IGP Idris flaunted his instruction by not spending even twenty four hours in the wake of mass killings by the herdsmen.There are litany of other reasons why the President is crossed with his chief law enforcement officer.
According to our sources, " He sat at the ground floor in the president's waiting room for over an hour before being advised to leave."
The source cautioned against presuming the President would sit down with the IGP in the next few days, saying there is not much to be discussed, and one source said the form of response from the police boss be written. It is being rumoured that the President has almost concluded arrengements to replace the insorbordinate IGP.
Buhari has voiced his displeasure with the IGP privately with senior administration officials since the beginning of Herdsmen/Farmers clashes in the country.
Tuesday saw a flurry of new developments concerning the alleged act of insubordination by the Inspector General of Police, Ibrahim Idris, with each adding to what the public knows about the matter.
President Muhammadu Buhari had during a meeting in Benue State said he was not aware that IGP Idris ignored his instruction to relocate to the state when the recent killings started.
"But I did not know that the IG did not stay in the state. I am getting to know this at this meeting. I am quite surprised," the President had said when he was told that Idris did not spend 24 hours in the state.
Many are wondering if his spokesman, CSP Jimoh O. Moshood will advice President Buhari to resign as he advised Governor Samuel Ioraernyi Ortom at the wake of the verbal confrontation between Benue State government and the embattled IGP.
The last stanza of the unfolding classical concerto is yet to start.