Stop Sowing Seed Of Discord Uduaghan Warns Rumour Mongers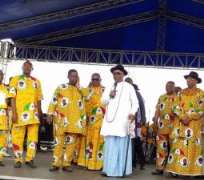 The immediate past governor of Delta state, Dr Emmanuel Eweta Uduaghan, has warned against the spate of rumour mongering and sycophancy in the state even as he described former governor James Ibori as a unifying factor in the political arena of the state and nation at large.
Uduaghan who was speaking during the Thanksgiving and Grand Reception in honour of former governor James Onanefe Ibori, by the Urhobo Political Class, held Saturday at the Unity Square, Ovwor Olomu, Ughelli South local government area of the state, thanked all those who stood and visited Ibori when he was incarcerated in London.
Former governor Uduaghan who is a blood brother to Ibori, took a swipe at those who he said were spreading rumour of disunity to create bad blood between him and his brother, saying all those involved in that unholy act has been put to shame and called on all and sundry to give the former governor their full support.
While describing Ibori as a man with a large heart and forgiving spirit, Uduaghan disclosed that Ibori has since forgiven all those who fought against him and caused the misfortune.
"Ibori has a very big forgiving spirit, you people know we grew up together and I know that part of him from birth. Ibori has forgiven all the people who caused him that misfortune. They have all been put to shame now. I am here today as the immediate past governor of Delta state. But what's more importantly as a blood brother of Chief James Onanefe Ibori, I want to thank everyone especially our spiritual fathers who visited him where he was, I thank you all.
"There were so many rumours in this our state that I did not visit him, so if I visit him I should come and tell you that I visited? All those behind such rumours, where are they today? They have been put to shame, adding that Ibori, on his return, has put right all that went wrong when he was away, "he's our national leader, worldwide leader and we must all give him the full support." Uduaghan stressed.
In his speech, the, People's Democratic Party, (PDP), National Chairman, Uche Secondus, described former governor James Ibori as a unifying factor in the development of the Niger Delta region and Delta State in particular, saying the PDP remains the only political party that can rescue Nigerians from the maladministration of the All Progressive Congress (APC).
Mr. Secondus called for the celebration of the former governor saying "Ibori is a man of the people not just in Delta state but across the nation, today, he is a factor in this country. On behalf of the masses of our country, we salute you, we salute your courage because you are a man who believes in the struggle of the party."
On his part, the state governor, Ifeanyi Okowa, said the former governor, James Ibori remained the national leader of the party in the state and the nation, "Ibori is our national leader, and he laid the foundation of development in the state and established a political structure that we are enjoying today. Ibori is an Urhobo man who is good and believes in chop I chop principles. I know things are tough this period but I want all of you to be rest assured that once our party, PDP return to power in Abuja come 2019 everything will change for good." Okowa said.
The chief host of the reception, John Oguma said former governor James Ibori impacted positively on the state and as a national leader, stabilised the political terrain, describing him as a man with large heart.
In his response, the former governor of Delta state James Ibori disclosed that he has forgiven all who played one role or the other in his incarceration in London, and thanked everyone who has given him support in one way or the other adding that in the coming days, his action will tell it all.