Police Gives Borno Residents 21 Day Ultimatum to Surrender Illegal Firearms in Their Possession or Face Prosecution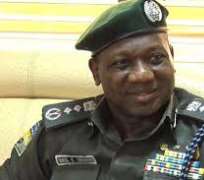 The Borno state police command has Thursday issued a 21-day ultimatum to residents of Borno state to surrender all sorts of illegal firearms in their possession or face prosecution henceforth.
The Borno State Commissioner of Police, CP Damian Chukwu gave the ultimatum during a monthly press briefing with newsmen and the all Area Commanders and Divisional Police Officers at the police headquarters in Maiduguri.
Chukwu said the ultimatum became necessary following the realization of proliferation of firearms coupled with drug trafficking and porousness of Borno state boarders with neighbouring countries of Niger, Chad and Cameroon Republics among other factors that are responsible for the increasing violent crimes and criminality in the state.
" For the above reasons , the Inspector General Of Police , Ibrahim Idris has directed that a Taskforce be created in the command to check the menace . The Taskforce is saddled with the responsibilities to curb the proliferation of illegal arms and ammunition.
" Let me make it clear that, while Dane guns may be possessed without approval if any known authorithy, single barrel and double barrel short guns require licencing by the police to legalize.their possession," the CP said.
The commissioner added that while the above mentioned firearms may only be possessed by physically fit and proper persons , it was however for gaming purposes and now that the society was changing , bearers of such firearms use them for Security purposes.
" Please note that anybody found using firearms other than those mentioned above are viewed as breachers of the laws of the land and therefore are liable to arrest and prosecution in the law court.
" Consequently, persons having pump Action shall consider themselves bearing illegal firearms. They are therefore advised to surrender to the nearest police station, the police headquarters and other relevant authorities . In line with the directives of the IGP , they are given grace of 21 days to comply , thereafter , persons found with such arms will be confiscated and will also be dealt with in accordance with the laws of the land.," Chukwu said.
He however called on members of the public to cooperate with the police to ensure that all the important directives of the IGP were complied with without rancour.
" The IGP means well, the Federal government is aware of our curcumstances and that is why unlicenced arms must not be in circulation," Chukwu said.