Tyga calls out Kim Kardashian on Instagram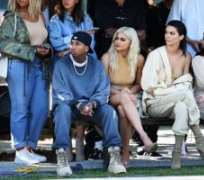 Called out!
Kylie Jenner's ex-boyfriend, Tyga, unexpectedly called Kim Kardashian out in her Instagram comments on Tuesday, and fans are (unsurprisingly) flipping out about it.
Kardashian and her sisters recently returned from Japan, and the KKW Beauty founder continued to share photos from their Instagram-dominating trip on social media on Tuesday. In one of the grainy shots, Kardashian is wearing a dark ensemble at a train station in Kyoto, which she accidentally misspelled as Keyoto.
Almost a year after Kim's little sister, Kylie, split from the rapper, Tyga randomly commented on Kim's photo saying, "KYOTO*," which is the only known interaction between the two stars since Kyga's breakup in the spring of 2017. The comment and typo were saved thanks to growing Instagram account, @CommentsByCelebs, which tracks the most notable comments that celebrities leave on each other's photos.
Kim has yet to respond to Tyga's comment, but she did alter her caption to correctly spell the Japanese city. Of course, Kylie is now dating Travis Scott, who she started dating shortly before she became pregnant with her first child, Stormi Webster.
It's curious that Tyga would randomly call out his ex-girlfriend's sister on such a public platform — surely he knew that the comment would get picked up. Wouldn't a simple DM have sufficed?