I stand with Buhari Billboards and cars Resurface in Abuja Nigeria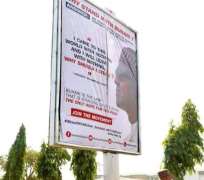 New Banners and billboards with the inscription "I stand with Buhari " are once again seen mounted in major areas in Abuja,Nigeria.
At first, Mr Garba Shehu, SA Media to President Buhari, had announced that they should halt their campaign for Buhari. The group was the first and the biggest to kick off campaign supporting the admiration of President Muhammadu Buhari.
President Buhari's supporters all over the nation immediately keyed into the group's agenda of supporting Buhari's fight against corruption. But the party ended when the likes of Kayode Ogundamisi attacked one of the group's leader and accused him of being one of the people who vigorously campaigned for the former president, Goodluck Jonathan.
Mr. Ogundamisi who has a huge followership on Twitter asked the presidency to come out and announce to the public if they are aware of the group or are financing the group. The next day Garba Shehu released a statement distancing the president from the group.
Now #IStandWithBuhari is back. Their billboards are now springing up all over Abuja and from the grapevine, there is a story that they are planning to host all their members from all the local government in Nigeria after which they would launch mass support for General Buhari.