Our Colo-mentality Too Much With No African Standard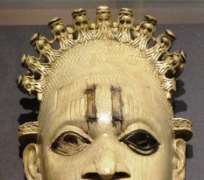 Africans are advancing no doubt but still at a point in 2018 where we value standards such as "civilized world, saner climes"; preference for foreign workers with less qualifications, foreign miseducation repackaged to us to avoid the label of "expired education" and most important, the Gold Standard used to influence fair and free trade. Education that does not foster foreign std. is an uphill battle. Case in point: lure of Ajaokuta Steel Looting College nor go well lailai.
It is no secret na; African employers prefer foreign graduates to our local university graduates. We have to be fair, some employers have good reasons like: it takes them too long to graduate because of strikes or students lack certain skills employers want. The one that ticked this writer off is that they don't have time to train locals. Usually they look for readymade graduates that are foreign trained. The same way we patronize foreign hospitals despite highly trained staff and equipped wards at our teaching hospitals, loved foreign rice and hate local cassava bread.
If one had joked that he preferred foreign graduates locally, he might get away but certainly not outside the Continent. Most of us cannot imagine an American, German, Irish or British saying he cannot hire an American and prefer foreign graduates in America without losing his job or an election today when anti-immigrant sentiment is high. While it is appalling that after first year at local university, some lecturers jump to new universities to become professors; it is not an excuse by another foreign loser elevating himself to get recruits to say local education expired.
However, the most disqualifying requirement for most well qualified African graduates in the job market abroad is lack of Canadian, American or British experience. So many foreign talents are wasted abroad. But those African graduates that could slip through the bureaucracy always come out with flying colors proving to be more competent. Most of the blacks in American universities as graduate students are Africans, West Indians or their second generation.
Actually, some of the distinguished African professors in many universities abroad got first or second degree from African universities. If these sons and daughters of Africa can excel in their chosen field of study anywhere, one has to wonder what they could do if our African employers spent some quality time to train them at home instead of looking for less qualified expatriate. No one wants global multinationals to discriminate against either foreign or local graduates.
The same expired education trained new generation in arts and natural sciences recognized as pioneers in vitro surgeries, automobile engineering, social sciences, arts and literature. Boston Childhood Lead Paint Poisoning Prevention that led in United States through the eighties and nineties until high levels of lead in children was almost wiped out, had an African Manager. Compare Boston program that long ago to the high lead levels of lead in Michigan kids today!
Though Nollywood is highly praised and successful outside, our scholars ridiculed it instead of contributing to make it better. Ogunde, the pioneer said if he had studied abroad, it could have killed his ingenuity. As some African scholars claim Africans do not speak good English, others do recognize that we can import English into our language and export out philosophies, idioms and thoughts into English by writing many best sellers such as "Things Fall Apart". As soon as foreign recognition is given, the tunes change. The scholars that once see American English as inferior, now point to even the British, copying them today.
In order to ameliorate this blatant assertion by this Nigerian, the facilitating professor tried to set him right by saying he meant preference for African foreign graduates not the foreigners. It certainly was not enough because most African local graduates know that foreign graduates are paid more except in the governments where there are salary levels graded by degrees. But in the private sector, the foreigners without university degree not only earn much more than local and foreign African graduates, the so-called expatriates supervise them. It's all colo-mentality.
Coming back to the training part; for sixty years or after independence from colonial powers, African countries have not insisted that every major contract or project must include training of Africans! It is only lately in some African countries including Lesotho that we see such contracts included in their projects. Some West African countries including Nigeria and Ghana would rather accept bribes and give foreign contractors a pass as in South Africa Zuma/Gupta/gate.
Frivolous excuse that they have no time to train local graduates prevent local production of pins and pencils. Our universities cry for imported equipment instead of designing and making theirs after so many years. Imagine how many engineers, ironworkers, plumbers could have come out of Eko Bridge, Eko Atlantic or diamond and gold mines that were exported from countries with so much, one was named Gold Coast. Colo-mentality pride on English gold and expatriates.
This brings us to the meaning of standard. Whenever you hear an African talk about "standard", please ask him whose standard he was referring to. Most of the standards Africans talk about have no relevance, input or consideration for and from Africans. They are American, British or western standards, mostly. In some cases, such as World Health Organization bodies, African experts are consulted or actually have inputs before the "standards" are developed.
When China started their barefoot doctors and finally got to the point where their scientists are awarded Nobel Prize, nobody would even think of meeting "world standard". If the Russians have to wait until they could meet "world standard", they would still be trying to figure out how nuclear bomb design could be stolen and developed. Nobody outside America doubts that the Cuban produce one of the world best doctors, yet they did not wait to meet "world standard".
Those of us old enough know the history of the "Gold Standard" that was abandoned when it could not be supported by their natural resources and services. It is still used to control world financial system by printing papers instead as: I Owe You. If you have been following this train of thought, the meaning of "standard" is so jaundiced to favor those that developed it. Yet, the Africans that are not invited for input or contribution, are the ones insisting on rigged standard.
When United States CDC rushed to Nigeria during Ebola, diagnosis had already been made from homemade machine in one of the new universities: Redeem in a village at Ede. The slogan was if Nigeria could kick Ebola, so could USA! Schools of health technologies training Community Health Officers, Nurses and other health grassroots workers were established by giants in the field in Nigeria hopping at least one African country would catch up with our needs and spread it across the Continent. When was the last time you heard Community Health Officer deserted?
Our educational standard has not expired, just to be renewed by foreign equipment. We have not developed ours as China, Germany, Cuba or N. Korea according to our languages/cultures. We are still training doctors, nurses, engineers and social scientists for alien countries. We then wonder why most of our doctors desert our countries for greener pasture.
Disclaimer:

"The views/contents expressed in this article are the sole responsibility of

Farouk Martins Aresa

and do not necessarily reflect those of The Nigerian Voice. The Nigerian Voice will not be responsible or liable for any inaccurate or incorrect statements contained in this article."