BREAKING NEWS:Gov. Okowa's Former Aide Defects To APC, Responds To Reactions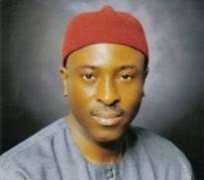 Seven days after the former Executive Assistant to the incumbent governor of Delta State and former Commissioner in the administration of the immediate past governor, Dr Tony Nwaka, has dumped the Peoples' Democratic Party (PDP) for the All Progressives Congress (APC), The Nigerian Voice can authoritatively report.
In a Facebook post in the early hours of Monday, Nwaka, left the PDP to use the APC platform to pursue his political career to give quality representation to his people.
In the post titled: "FINALLY, I SAY GOODBYE TO PDP," Dr. Nwaka said: "I shall not go into the details of my recent political experiences, for the palm wine tapper does not disclose all that he sees from the treetop. Suffice to say that, after a critical evaluation of the journey so far, it is now time to heed the advice of my followers and seek an alternative vehicle for the actualization of my political convictions.
"Although there are many political platforms, every politician craves for genuine accommodation and a sense of belonging. Accordingly, whilst I wish all my former fellow PDP men well, I step forward in faith to join the next available major option, the APC.
"I pray that my vision of politics and public service would find true expression with the progressives. I do this believing that, ultimately, no matter your sentiments for a political platform, effective service delivery remains the final goal of political parties, and it is on that score we shall all be judged by the people".
However, mixed reactions have trailed the defection of Nwaka to the APC as wrong choice just as others noted that it would give him the chance to do exploit.
Flora Osamor said Dr. Nwaka is an asset to any political party in Nigeria, adding: "The two parties (APC, PDP) mean the same to me though but you, Dr. Nwaka can make the difference. I wish you good success in your future endeavours."
Emeka Ogbangwo expressed surprise at the defection of Nwaka, noting that Nwaka had once swore that no circumstance would force him out of the PDP.
Hence he said: "Is this the same Dr Tony Nwaka who swore on Facebook some time ago, that no circumstance will ever make him leave PDP for APC? It seems some politicians are playing LUDO (games) with people's brain!!!! But a man should be known by his words.
"There is a parable which says that a monkey in PDP can never become a human being in APC. However I wish you well in your political journey to APC."
Samuel Anukwu described Dr. Nwaka as an Iroko tree that has left the forest, even as he described the APC as a desert ground.
He noted that there are other platforms for Nwaka to achieve his political ambition.
Describing Nwaka as his mentor, he said the decision was a hard nut for him to crack.
However, he said: "I know you have pondered over it before making this decision, but the truth remains that some of us who fancy your leadership styles and antes will not be available to support you in APC, it means working for Buhari, God forbid.
"I always make my stand known earlier, because APC has a sole agenda, which is to Islamize Nigeria. My Bible made it clear that friendship with the world is an enmity with God.
"Is not about who goes in to be in power, is about my ideology on the party agenda and my faith. I cannot forbid to eat rat and still use my teeth to share it. I wish you well Sir, may you see a clearer path to tread on as you move on. It calls for cross examination and so much patience."
But Tony Nwaka, a determined man, has resolved to forge on. In response to these reactions, Dr. Nwaka said: "I wish I had the capacity to see beyond certain things. But I guess that is why we are human.
"There's no doubt that some of my admirers have been unhappy with some of my decisions. We learn every day. Let's now be guided by the lessons of the past and join hands to chart a new way forward. I know I can always count on your support for you've been a very reliable and courageous friend.
"You will not understand the humiliation and pains one had endured in the last few years, all in the name of party loyalty. Yes, I wrote all that pro-PDP messages all in a bid to discourage the growing movement from the party.
"As I said, it is not everything I will spill in the media. Let's hope that someday posterity will bring to light the inner happenings of the last few years. For now, whatever platform we find ourselves, let's focus on service to the people. Thanks my brother and best regards".