Osun Deputy Governor eulogizes Hon Bosun Oyintiloye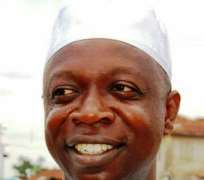 The Deputy Governor of Osun State, Otunba Grace Titilayo-Laoye Tomori has described the lawmaker representing Obokun State constituency in the Osun State House of Assembly Honourable Olatunbosun Oyintiloye as a great asset to the state.
Tomori said this when she received some Women Leaders of the All Progressive Congress (APC) who paid her a courtesy visit in Osogbo, the state capital where they passed vote of confidence on the lawmaker and described Oyintiloye as a worthy ambassador who made them proud.
The spokes person for the group, Mrs Fúnke Ajayi said it was evident from his conduct, carriage, charisma and comportment, that the Oyintiloye was genuinely prepared for the task in politics and public service, affirming that the legislator is a man of the people.
Welcoming the women wing which comprised of all key leaders from all the wards in Obokun, the Deputy Governor described Oyintiloye as a thorough bred grassroot politician who is profoundly passionate about his people, their welfare and development of his community.
The Deputy Governor went on the memory lane to highlight that herself and Oyintiloye were part of the earliest group of Asociates of Governor Aregbesola during the period of thick and thin.
She expressed her joy at the strides and performance of Oyintiloye as a lawmaker and public servant , saying several years back, she had taken notice of his leadership quality, resilience in character and commitment to democratic ideal.
While assuring the group that they have a reliable representative who is full of energy, ideas, passion and creativity, Tomori said Oyintiloye still has lots more to offer the people of Obokun and the state at Large in the future.
The Deputy Governor who also maintained that Oyintiloye was well focused and a fast learner pointed that the feat he has demonstrated in public service and promise of the future was attributable to good upbringing, fear of God, his diligent in application of knowledge acquired from leaders he was privilege to work with.
While speaking, Oyintiloye who is also the Chairman House Committee on Information and Strategy in the Assembly thanked the women and promised to renew his commitment to the service of the people.