Delta Government Gives Belated Public Announcement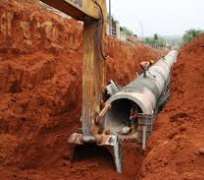 Overwhelmed by complaints from Deltans over the sudden closure of the Asaba main access road between Federal Medical Centre (FMC),in the state capital and Kowean Plaza along the popular Nnebisi Road, which has left many stranded, the Delta State government one hour ago hurriedly released a late public announcement notifying the general public particularly motorists of the closure of the road.
The belated announcement which was signed by the Director of Information in the Ministry of Information, Paul Osahor, advised motorists to use alternative routes, some of which are pothole infested while the "Governor Street", is inaccessible due to the closure of the road.
Our correspondent, who was at the closed portion of the road, saw pupils, students and commuters stranded while taxi drivers and tricycle riders are being diverted into Leo Okogwu Road through Jesus Saves thereby causing heavy vehicular movement before passengers could get to their destinations.
A cross section of road users who spoke to our correspondent accused the state government of insensitivity.
A taxi driver, who simply identified himself as Joseph, said "we woke up to see that the road has been blocked, it is unfortunate that people we voted to represent us are leading us as if they are not accountable to the people any more".
The announcement below:
GOVERNMENT SPECIAL ANNOUNCEMENT
It is hereby announced for the information of the general public particularly motorists in Asaba that the road between Federal Medical Centre (FMC) and Kowean Shopping Plaza along Nnebisi Road will be closed for two weeks to vehicular movement.
The closure of the road is to enable the contractor handling the Storm Water Control Measure to link the drains along the Lion House side and the FMC side of the road.
Consequently, motorists are advised to take alternative routes like Jesus Saves, Governor Street and DLA Roads to get to their destinations.
Accordingly, the Delta State Government regrets all inconveniences the closure of the road may cause to road users and residents of Asaba.
The general public particularly motorists and commuters are to take note and be guided accordingly.
Paul Osahor
Director of Information