Why I can't sign Nigerian Peace Corps (Establishment) Bill: President Buhari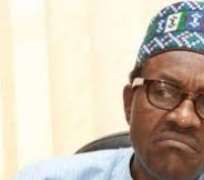 President Muhammadu Buhari has explained why he declined assent to the Nigerian Peace Corps (Establishment) Bill passed by the National Assembly in 2017.
In a letter read by the speaker of the House of Representatives, Yakubu Dogara, on Tuesday, Mr. Buhari cited reasons for his decision.
In the letter titled 'PRESIDENTIAL DECISION TO DECLINE ASSENT TO NIGERIAN PEACE CORPS (ESTABLISHMENT) BILL 2017 RECENTLY PASSED BY THE NATIONAL ASSEMBLY', the president cited "security concerns regarding the proposed outfit being authorised to undertake activities currently being performed by extant security and law enforcement agencies."
He also cited financial implications of funding the establishment and operations of the proposed peace corps adding that the scarce financial resources may pose serious challenge to the government.
Reacting to the decision of the president, a member of the House of Representatives from Delta state, Ossai Nicholas, described the action as the beauty of lawmaking.
He said lawmaking does not end only at the doorstep of the legislature.
He said the house will sit and x-ray the reasons that the president had given to see whether "they are reasonable or probably not."
"Probably the president is looking at it from the economic angle," he said.
He said if the reasons given by Mr president are not germane, "he'll personally lead a lobbying process to make sure the house vetos him."
"Between now and tomorrow (Tuesday) be rest assured that we'll come out with our opinion," he said.
Another lawmaker from Lagos state, Yusuf Ayinla, said the issue must be looked at from the angle of unemployment.
He said the bill will help tackle the menace of unemployment in Nigeria.
"That bill will help the president himself for lifting zero employment to a better place," he said.
He said the glory would have gone to the president "but it is now a free opportunity for the National Assembly to take all the glory."
He said the National Assembly will have to "sit down and look at the reasons for the president's refusal to assent the bill and return it to him."
He however said if it means overriding the president, he will wholeheartedly support and append his signature.
The peace corps bill has been widely anticipated by many Nigerians who believe the creation of the corps will partly address the nation's unemployment crisis.
About a year ago, the Nigerian Army, police and the SSS stormed the Peace Corps' head office in Abuja, arresting its founder, Dickson Akoh, and other leaders while shutting the facility down.
The office has remained sealed despite several court orders given to the police to vacate its premises. (Premium Times)