Biafran Warlord, Achuzia, Dies At 90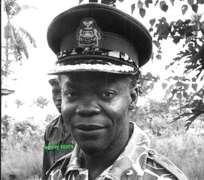 Nonagenarian Biafran warlord, Brig. General (Dr.) Joseph Oseloka Governor (JOG), who led the Biafran Battalion across the Eastern Nigeria during the Nigeria-Biafra civil war between 1967-1970, has passed on at 90.
Joe "Hannibal" Achuzia, as he was fondly called died at about 6am Monday morning at the Federal Medical Centre, Asaba, after 12 days of admission at the intensive care unit of the hospital.
The Nigerian Voice was at his country home in Asaba, capital of Delta State and confirmed the incident as his wife Ngozi, children and relatives received sympathizers.
The late Achuzie, was best known for his successful air raids against the Nigerian Army and success in bombing Nigerian defenses during battles.
Achuzie, fled into the Igbo heartland during the Anti-Igbo sentiment of 1966, when Biafra was proclaimed on May 30, 1967 he was freed from the prison on terms of "self-defense".
Before the deceased warlord became General; he was a commander in Philip Effiong's brigade and led successful attacks against the Nigerian Army at battles in Nsukka and Onitsha and he was nicknamed by fellow soldiers "Hannibal" for his battlefield exploits and determination in fighting against the enemy.