School loses 3 pupils after eating birthday biscuits in Kubwa - Abuja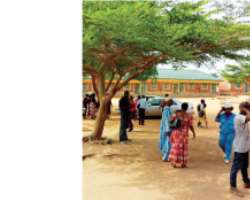 No less than three pupils of the LEA primary school, Kubwa, Abuja, have been confirmed dead after allegedly eating biscuits shared by a student during school hours.
DailyTrust reports that the late students identified as Na'imat Yahaya, 14, and Yahaya Garba, 14, both in primary four, died after returning to their homes.
The third late student identified as Moses Sunday of primary one, was said to have been taken to the Kubwa hospital along with two other school pupils namely Aisha Isa and Hasiya Haruna on the day of the party.
.He died on Wednesday while the two others are said to be in stable condition. The development has led to confusion in the area, with parents storming the school to pick their children.
Report in New Telegraph said there were controversies yesterday over the cause of death and the number of the actual victims.
A source told the newspaper a woman went to the school on Tuesday with biscuitss which she distributed to the pupils as well as a trader selling dates to mark her daughter's birthday.
At press time, various officials and witnesses were quoting different figures.
More than 30 teachers and executives of the Nigeria Union of Teachers (NUT), the Federal Capital Territory (FCT) wing were seen in a heated meeting on Wednesday, deliberating on how to handle the situation.
The headmaster, who was identified only as Mr. Stephen, refused to divulge any information to journalists.
However, there was a sober mood in the environment, as residents and traders near the school expressed shock over the tragic event.
One of the residents, who gave his name as Joshua Nwadike, said that angry parents and relatives of the deceased and hospitalised pupils had stormed the school, crippling activities for over four hours and demanding justice for the death of the pupils.
He said: "I came out this morning and there were a lot of people protesting. A kid and her mum went to the school yesterday claiming to be celebrating birthday and shared biscuitss to pupils in the school and according to the report this morning, about seven are already dead.
"There were lots of police vans and it was very rowdy. Based on what I gathered from the protesters, the deaths stretched to this morning (yesterday) and others are still hospitalised.