Imo Guber 2019: Deputy Governor's Kinsmen Reject Okorocha's Son-in-law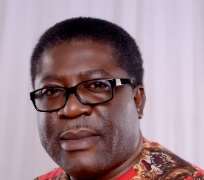 Fracas, pandemonium ensued in Mbaitoli local government council headquarters, yesterday, when men suspected to be campaigning for the governorship ambition of Okorocha's son-in-law, Hon. Uche Nwosu stormed the council headquarters campaigning for the endorsement of their principal.
Trouble started when Nwosu's endorsement campaign coordinator, Collins who had secured the council hall for the purported empowerment programme for the governor of Imo State, Owelle Rochas Okorocha only to unveil the real reason for the gathering, which infuriated the audience, leading to the fracas and pandemoniu
An eye witness account had it that no fewer than twenty persons were feared to have sustained various degrees of injuries, with some parents still looking for their children whose whereabout were still unknown as at press time.
When contacted, Chief Press Secretary to the Deputy Governor, Uche Onwuchekwa express astonishment in respect of the incident, saying he was hearing the information for the first time as was he yet to get the details of what transpired.
In a related development, the same scenario played in government house Owerri, when a faction of APC members from Ikeduru local government led by Hon. Obinna Nshirim and Charles Amadi visited Governor Okorocha only to realize it was an endorsement of his son-in-law. The said visit raised tempers as some of the people that attended the meeting revealed they were not briefed. The scenario resulted to various shades of arguments, thereby ensuing confusion and disgust among the APC faithful.
According to one of the faithful who pleaded anonymity; "we were just asked to come to government house for a meeting with the governor but however, on getting to the venue issues related to the endorsement of Nwosu dominated the meeting. This is against the manifesto and constitution of our party and we would not fold our arms and watch people rape the constitution of our dear party. This is a rape to democracy and we cannot allow this to continue. Can you imagine the insult? How can somebody bringing me here for such only to be given paltry N400 to go against my conscience. We shall pay them back at the appropriate time.