Ex-convict impersonates Ogun Director if Finance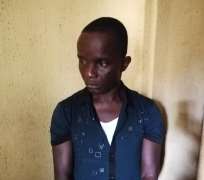 An ex-convict, Adeleke Balogun has been arrested by men of Ogun state police command for impersonating the Director of Finance in Ogun State through the Facebook.
The suspect, a fashion designer from ijebu-ode in Ogun state was said to have posed on Facebook as a staff of NNPC with the picture of the said finance director through which he has been defrauding unsuspecting members of the public.
The Police Public Relations Officer for Ogun State Police Command, Mr Abimbola Oyeyemi told The Nigerian Voice that the 46-year-old man had earlier been arrested for similar offence when he duped one Bimpe Akinmade ofN950,000 by claiming to be an NNPC staff based in Port-Harcourt and that the woman should borrow him the said amount to secure the release of his brother who is being detained at Ibara prison with the promise to refund her when he comes back to Abeokuta.
"He came to meet the victim under the pretence of running an errand for the Port-Harcourt based man, collected the money and blocked the woman on his Facebook page. He was later traced and arrested by the police, charged to court and sentenced", Oyeyemi said.
"As soon as he came out of prison, he started his nefarious activities again. Luck ran against him when he was trying to defraud another woman on Facebook under the same guise unknown to him that the woman is a police officer.
"The officer played along with him until Saturday 17th when he was arrested while trying to collect money from the woman."
"On interrogation, he confessed that he committed the crime. He informed the police that he downloaded the picture of the Director of Finance on internet and use it as his Displayed Picture in order to deceive his victims."
The commissioner of police in the state, CP Ahmed Iliyasu has ordered that the case be thoroughly investigated and charged to court without delay.