Delta Government Flags-off 2017/2018 YAGEP, STEP Programmes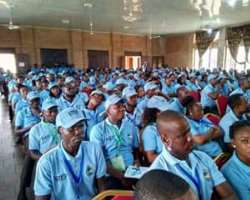 In line with his vision to create jobs for unemployed youths and his determination to remove youths from the streets of Delta and engaged them meaningfully, the state government has begun the third phase of its Skills Training and Entrepreneurship Programme (STEP) and the Youth Agricultural Entrepreneurs Programme (YAGEP).
Flagg-off the event Thursday at Songhai Delta, Amukpe, Sapele local government area of the state, the Chief Job Creation Officer, Prof Eric Eboh, noted that it was another milestone in the implementation of the job creation programme, stressing that it was a proof of continuity of the programme in fulfillment of the governor's promise to Deltans.
According to him, the 2017/2018 cycle has two categories, "Brown STEP" and "Green STEP", explaining that the "Brown STEP" are candidates who have learnt skills through personal sponsorship, but requires assistance to be established in their various areas of vocational skills, "they (208) has a week orientation course here in Songhai Delta two weeks ago and have been posted to various training centres across the state for one month refresher course before establishment in line with the prosperity vision".
In his words: "the second set tagged, "Green STEP" comprises of fresh candisdates who want to learn skills and be established through the Skills Entrepreneurship Programme (STEP) in addition to those who want to be trained in agriculture under YAGEP, noting "we are here to witness their orientation and personal effectiveness training which is programmed for three days. It is to teach them the right orientation, mind-set change, personal effectiveness and business management so as to prepare them to succeed in the world of entrepreneurship".
He said within three years 2, 324 youths have been trained, nurtured and established in their choice enterprises under STEP and YAGEP, stressing that the impact of the programme is been felt by the beneficiaries.
Eboh recalled that in December 2017, the state government organized a STEP and YAGEP Product Exhibition and Business Fair which gave 400 trained youths the opportunity to meet investors, disclosing that the number includes 1, 687 STEPreneurs, 618 YAGEPreneurs and 19 beneficiaries of the newly introduced Graduate Employment Enhancement Programme (GEEP).
He charged the 745 trainees who were selected out of the 15, 700 applicants to take advantage of the programme to better their lives even as a beneficiary of the programme, Mrs Precious Nwaise who was trained in fashion design, said in an interview that she has trained several others and her products have hit the international market.
A trainee, Evans Ogbeingbene, who choose fishery, expressed hope that at the end of the training, his fish and brand would take over others in the market.