ANIOCHA NORTH: Suspended Chairman Remains, Osuoza Declares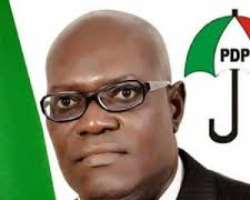 Despite the vote of no confidence letter reportedly sacking the Aniocha north local government chairman of the Peoples Democratic Party (PDP), Victor Egbune, was signed by two third of the party executives in the troubled local government, Delta state publicity secretary of the party, Mike Osuoza, has said the purported sacked chairman remains as the party chairman in the local government area.
Osuoza's response followed the sporadic media publication that followed the release of the vote of no confidence passed on the local government party chairman by 10 out of the 14 executive members of the party in the crisis ridden local government in Delta state.
Not less than four online media blew the whistle thereby causing political heat in the local government, the council that has already been engulfed with crisis over political loyalty to some godfathers and cabals in the administration of the newly inauguration council executives.
The 10 executives who sacked the chairman identified misappropriation of party funds, factionalising the party, inability to call regular meetings and coordinating aspirants for certain positions as reasons for kicking the chairman out of office, though the reasons are yet to be verified by higher authority of the party, especially from the state level.
The aggrieved party executives in the letter to the state chairman, Kingsley Esiso, called for the deputy chairman of the party in the local government, Aggrey Abia, to function in acting capacity pending when a new chairman would be sworn in as replacement for the ousted Victor Egbune.
But in a statement released by Mike Osuazo, state publicity secretary, he described the sack as fake news making the round and attempting to cause tension and political cataclysm in the local government.
In the statement, Osuazo said: "For the benefit of the unsuspecting public, we wish to make it abundantly clear that none of our twenty-five chapters has intractable issues. The said fake news is baseless, unfounded, tendentious, malicious and deliberately calculated to mislead the general public and should be disregarded in its entirety.
"For the avoidance of doubt, we wish to reiterate that, Prince Victor Egbune is still the chairman of PDP Aniocha north and we have IMPLICIT CONFIDENCE in his leadership.
"Furthermore, we hereby warn all the renegades who are behind this fake news and their sponsors to desist forthwith from these divisive tendencies."