DEMI MOORE MEMOIRS SET FOR 2012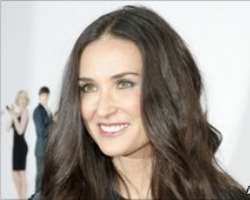 Moore has been married three times
Hollywood actress Demi Moore, 47, has signed a deal to publish her autobiography, due for release in 2012.
Publisher HarperCollins has bought the world rights to the memoirs of the star, whose films include Ghost, Indecent Proposal and A Few Good Men.
Business news website Crain's New York.com reported that HarperCollins had agreed to pay more than $2m (£1.37m) for the book.
But the publisher has refused to comment on the price paid.
Nude portrait
Moore has previously spoken of her difficult upbringing – HarperCollins said the narrative will be "framed by her complicated relationship with her mother, Virgina King".
King died from a brain tumour in 1998.
Moore has been married three times, first to singer-songwriter Freddy Moore, then to actor Bruce Willis, who she had three daughters with.
That marriage lasted 13 years and in 2005, she wed actor Ashton Kutcher.
Moore was once the highest paid actress in Hollywood and attracted controversy when she appeared nude on the cover of Vanity Fair magazine when she was pregnant in 1991.