Bishop Rochas' Successor- Home Base, Ejiogu on the Binoculars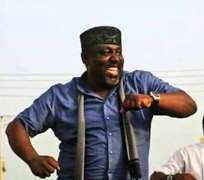 The Igbo-born Nigerian literary icon, Prof Chinua Achebe, (Anthills of the Savanna) said that "every artist contains a multitude." This multitude is founded on creative complexity that exists between the art-creator and the encountered abstraction, which he alone captures best from the ideational world. Thus, the artist is immersed in creative unpredictability and indeterminacy. It is on this backdrop that Prof Wole Soyinka (The Man Died) said that "artists are great chroniclers of our time."
Chronicling an artist is to record his past events, with no glimpse or absolute certainty of his now or proximate future. The artist is like a good politician. He is indeterminate. Both are found in the person of the Imo State Governor, Owelle Rochas Okorocha, the best artist so far, in the history of Imo State. This perfect artist politician is very calculative, a prospective game-planner and foresighted schemer. A true friend to those he loves and father to those he loves most. He is very conversant with the real implications of the classical Greek aperion and the Latin persona. What is in his mind about the 2019 Imo APC guber, he does not say. What he says about it, he does not mean. What he meant, he winks 'begone' and fronts his best incognito.
Governor Rochas' recent revelation about his successor as his son-in-law, Chief Uche Nwosu, is mere allegory. Allegory in contemporary international politics has been proven by many as best antic in politicking, especially in complex societies, multi-party system of government and in advanced democracies. Employing it, initial characters and events are projected to be understood as representing other things, but symbolically expressing a deeper personal, ethical, in-group or political meaning.
I wonder the plainness of mind with which Imo politicians, especially APC party stalwarts and guber hopefuls see and understand the Governor's game. Is he not a father and apex stakeholder of the party in Imo? Of a truth, Okorocha used the Uche Nwosu's allegory to project to Imolites the calibre and quality of gubernatorial candidates that best suits his heart.
It is from this purview that he enthused about Uche Nwosu, "He is hardworking and never gets tired. He is a very humble man and not proud. Not arrogant. So, power won't enter his head. In spite of the position he occupies you can't see him quarrelling with anybody or maltreating anybody. He does not segregate against anybody whether from Orlu or Owerri or Okigwe zone. He relates with people enviously. I have checked him in and out; I have not found him wanting." Power intoxicates and absolute power intoxicates absolutely said Lord Aton, and Prof Wole Soyinka (Play of the Giants) added- "Power intoxicates, precarious power intoxicates precariously." When it intoxicates, the power drunk forgets who is who, and can undo even his status-maker. This Okorocha avoids in advance.
Many think Okorocha is not concerned about the marginalisation of Owerri zone, especially now he has finished his own tenure that drowns the equity charter in the State. Of a truth, how would one think of Orlu zone continuing to rule Imo State ad infinitum? Is Nkwerre not in Orlu zone? Are Owerri and Okigwe zones slaves to Orlu zone? Does Rochas not know that if an Orlu zone man picks the APC gubernatorial ticket to the glaring continuous marginalisation and intimidation of Orlu and Okigwe zones' guber candidates, that there will be mass exodus of Imo APC stalwarts and their entire structures to nearest parties or form dying minute coalitions, step-downs and structural collapses into others, as what happened to the Imo PDP in 2015?
The traditional ruler of Ndikelionwu, Prof Chukwuemeka Ike (The Naked Gods) said that "no politician is happy to preside over his own liquidation.... and the liquidation of his national interests." Rochas knows that Orlu and Okigwe zones are marginalised, and he is not happy about it, especially now he is done with his own life-tenure. He knows very well that imposition of APC candidate at this early hour will ruin the party. He is well aware that featuring Orlu zone candidate as best APC guber hopeful, is to compel the party stalwarts and guber hopefuls to mass exodus into nearest parties, and therein seek redress.
He has the premonition that the marginalised Owerri and Okigwe zones will certainly form end-time brotherhood (of the afflicted) and fight their common traitors and assailants to finish. After all, too many Orlu zone politicians and Imolites are not happy with the marginalisation of the two zones, especially Owerri. Rochas still remembers the likes of Araraume, Chukwueke and Ojinere, etc, as personalities one cannot thread upon as trivialities.
The efforts of the Concerned Imo APC Stakeholders are very plausible to this effect and shows that great many politicians in the party still have conscience and sense of due process in politicking. Yet and perhaps, the murmuring and agitating APC guber hopefuls, knowing their Master very well, do not know about his use of allegories and 'the per temporem' intrigue in Imo politics.
Imo APC is not a Catholic Diocese where the local ordinary solely nominates his successor and puts either his name alone or accompanied by few others as possible options after the nominated candidate to the Vatican City for confirmation. The truth in the declaration is that Rochas has finalised a latter-day sponsorship of either Sir Jude Ejiogu (the former Chief of Staff and Secretary to the State Government) whom he winked a priori to retire and wait for thekairos moment, or Barr. Chima Anozie (Home Base) who voluntarily sponsored his 2nd tenure campaign in the capital territory with stupendous personal logistics, and whom he gave the ominous OCDA at the point of his regime's Owerri-urban revolutionary transformation. Governor Okorocha flashed Home Base too, withdrew him and winked him wait for the kairos moment. These men have gathered the needed momentum.
These two certainly are not his closest inner circle, but are trusted, tested, humble, intelligent and illustrious Owerri capital territory politicians, who are hardworking, not power drunk, who do not create dichotomies in social class, and above all could uphold the magnificent transformational legacies he put in the Capital City. It is this calibre of aspirants that he wants, who could be likened to his son-in-law, Uche Nwosu. Even that Uche Nwosu has not declared his interest, knowing that with Okorocha exiting, he has no staying power to withstanding aggrieved APC political plinths and juggernauts his master stepped brutally on the toes.
Rochas needs these personalities most. A close source hinting on it alleges that Dr (Mrs) Ejiogu is herself impatient about the real man behind; who Okorocha will show Imolites few weeks and months ahead. She felicitates the Governor's programmes like Persians adulated Nebuchadnezzar. The show us the man, is for Sir Jude Ejiogu or Home Base as second option. Truly he wants an Owerri zone candidate and specifically an Owerri capital territory APC guber hopeful.
What Rochas is doing, his allegories and dramas are like what Godwin Akpabio did in Akwa-Ibom State. Governor Akpabio flashed the man in charge of Uyo capital territory and withdrew him (winked him aside as second in choice) and also retired Chief Udom as the SSG of the State three years before the end of his second tenure. He winked Udom quiet, waiting for the kairos moment. Later on, Akpabio to the shock of many, brought Udom and stupendously sponsored him to win both the party primaries and the gubernatorial election proper.
The apex Imo political clairvoyant, Prof Protus Nathan Uzorma, was very correct in his last year's prophetic article- "Imo 2019, All Eyes on Jude Ejiogu," which he just republished. These two great APC political plinths from Owerri capital territory are not stooges of Okorocha or in his inner confidants like Acho Ihim, Uche Nwosu, Eze Madumere and Chuks Ololo. They are adjudged by the Governor as humble, inter-zonal carriers, who are hard working and have unflinching developmental visions for making Imo the best State in Nigeria. He sees them as proven politicians with no hate or vendetta in mind for anybody, friend or foe. These men to him are like David, who was King after God's heart.
These conserved APC guber hopefuls, a close source revealed, do not flout themselves to avoid public rush. And as nothing is hidden under the sun, not even the two images in Rochas binoculars are hidden any more. We await them. The Governor's closest confidants: Acho Ihim, Uche Nwosu, Eze Madumere and Chuks Ololo know Rochas has concluded to hand over to Owerri zone APC candidate the party flag and ticket, and that is why they are vying. Uche Nwosu's men are doing same as he did for his master in 2014, a real handover baton for party primary elections for Ejiogu or Home Base. As far as Imo APC primaries is concerned, there is no Orlu zone candidate, no consensus candidate, no anointed or nominated candidate, but there are two men hidden in Oga's binoculars- Jude Ejiogu and Home Base. They too, are very able leaders, but will they succeed? I wish them well!