FASHOLA CALLS FOR DECENTRALISATION OF FEDERAL GOVERNMENT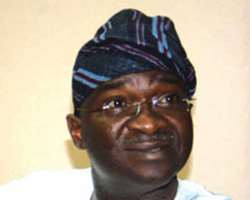 The Lagos State Governor, Mr. Babatunde Fashola, SAN, on Monday called for the decentralisation of government at the federal level.
Fashola spoke at a stakeholders' forum organised by the state Independent National Electoral Commission on delineation of wards and creation of additional polling units.
He said, it was time to borrow a leaf from advanced countries like the United States where there is an inclusive system of governance with government and representation closer to the people.
According to Fashola, concrete structures must be created to engage and elicit people participation in politics and governance most especially considering the political apathy of the average Nigerian, resulting from long years of leadership failure and neglect.
He noted that state governments must also allow the government at the grassroots to breathe and thrive.
Fashola said delineation of wards and creation of additional polling units would help overhaul the process that ensures the enthronement of good governance.
He said, 'We are interested in bringing government closer to the good people of Lagos State. We want to ensure that their votes continue to count. We have decided to put in place an electoral framework that will ensure that each councilor is known to the residents of his or her ward.
'This,we intend to do by ensuring that our polling units are situated in areas that will not disturb people's desire to exercise their franchise on the day of election. More than ever before, the polling units and wards are to be closer and safer than previously obtained.
'We believe that we can at least provide a framework where an average Lagosian will be able to knock on the door of his her councillor anytime the need arises. 'Through this, complaints and suggestions that will help in addressing issues, set agenda and design blue print for effective governance and administration can be secured from time to time.'
The Chairman of LASIEC, Justice Afolabi Adeyinka (Retd), said the commission had received many requests from various communities in the state for delineation of wards and creation of additional polling units.
According to him, LASIEC's field officers had conducted a feasibility study of the terrain, contiguity and geographical peculiarity of each local government and reported that each council would require four days for a thorough and effective review of the wards and polling units.