Yoruba Group commiserates with Buratai, over father's demise.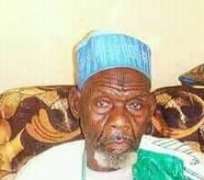 The National Committee of Yoruba Youth NCYY, has commiserated with Nigeria's Chief of Army Staff, General Tukur Yusuf Buratai over the passing of his father.
In a condolence message issued this weekend in Ibadan and signed by its President, Comrade Odeyemi Oladimeji, the group said the Army Chief's father, was a great Man, who lived a fulfilled life and always wanted the best for the society, particularly during the nation's trying times, especially by standing by all, in prayers.
Mallam Yusuf Buratai, a World War ii Veteran passed on in Maiduguri on Friday at the ripe age of 106.
"Mallam Buratai was a great father; an epitome of humility and compassion. He always wanted the best for his children and stood by all and sundry in prayers through thick and thin." the statement said.
"We know how it feels to lose a father, especially one whose place is huge in ones life. No one can really take their place. It is our prayer is that Almighty God help comfort General Tukur Yusuf Buratai and the entire family." the statement concluded.