Imo Zoning Politics and the Ruling Party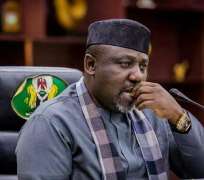 I was in a friend's house yesterday and read series of arguments between him and his social media chatters on the issue of zoning, its morality and the claims of equity charter as species of natural justice, whether it is on 'what ought to be' or on 'what it is,' they all in the Kantian morality, are categorical imperatives.
How can one in his right mind, grandiloquently assert that zoning should be taken as option only when it becomes glaringly obvious that particular zone(s) that has been ruling a State for ages now has exhausted all its cable hands? Who was born with able hands? Which zone is named such? In the old derogatory song, it was said that all the towns in Imo have developed except Okigwe and Orlu. When did the two towns grow the ancient able hands that disqualify permanently Owerri politicians from gubernatorial race?
The problem is with the phenomenon of intrigues in power play and the truncation of the equity charter by Governor Udenwa (who stayed 2 tenures than one) and Governor Rochas (who truncated Ohakim's 2 tenures that would have corrected the former truncation). The other factors are political parties' domination and popularity in some zones than in others or the emergence of meritocrats from another zone, which turn is not yet due in the zoning or equity charter in the State.
Thus, partyism and power tussle among the multi-party system, is fundamental to the inequitable power-rotation or power-sharing, which certainly is not a constitutional matter but discretional, an internally generated political chart that measures as the State's power-sharing and power-shift conscience.
The problematic involved here abounds in the sectional or zonal skirmishes, political party manoeuvrings, individuals' ambitions, the electorates' choice, which may sway from the zoning plan. Above all, this zoning is not as forceful or binding as the Nigerian Constitution is, but a mere gentleman's agreement on power-rotation; which every conscientious politician must accept as part of the collective political conscience of the Imo State.
Zoning or the equity charter herein becomes a sort of casuistic ethics or what Aristotle would call the mean relative to us, and should be yielded by every conscientious Nwa Imo, politician, supporter or electorate. For the sake of justice, the truncated equity charter train should be discretely reshaped back to the ab initio charter of 4 years tenure. As such, Okigwe (Ohakim) has 4 years, Orlu (Okorocha) should completing his self imposed 8 years and give way to Owerri Zone in 2019, after which Okigwe takes up gain.
In doing this, Governor Rochas Okorocha should not play a third-time bid and deal, of self-perpetuation in office by proxy, in nominating his successor for Imolites. If he truly wants the ruling party APC to continue holding power in the State, candidate's nomination or imposed candidacy must not come. Instead, let there be an equal level primaries for APC gubernatorial candidates in the State, which must rule out all apex power holders from the party that participated in Governor Okorocha's 8 years tenure.
Imo APC should expunge all the crop of apex-office holding politicians that played one role or the other in Governor Okorocha's 8 years, especially those that have been categorised as inner circle politicians, and have generated same public image like him. This is because in these latter days the former much loved people's Governor has totally lost the former love and clamouring the masses in the State have for him. And given the above latter days disgusting dispositions and aversion that Imolites have developed for Okorocha and his inner caucus political appointees and members of the State Executive Council, any such nomination will certainly be seen as self-succession and thus, third term bid in office.
If this amendment or rectificatory justice is disallowed or ignored, inequity will continue to exist in the power-rotation and sharing method in the State. Sincerely, I think our brothers and sisters from the Okigwe zone should swallow the vision of taking up or completing their remaining 4 years to balance up Chief Udenwa's 8 years or Owelle Okorocha's extra 8 years. Owerri zone is grossly marginalised, and must no longer be; no matter what not. Let the next Governor come from Owerri for 4 years and the Okigwe take turn or even take a long-stretched tenure of 8 years to balance up to equity. Owerri has been grossly marginalised: Orlu zone- 16 years, Okigwe zone- 8 years and Owerri zone- 2 years. Nevertheless, all these are mere thoughts as choice of party ticket often tends to the best-to-survive candidate; with zoning as second-order thought.
But even at this, the Imo APC must take cognisance of the fact that there will be serious competition for the Governorship seat this time around as there is no seating Governor, and none to play incumbency politics. The party should also remember that former ruling parties in the State- PDP and APGA are also garnering forces to snatch back the leadership of the State from APC. Governor Okorocha should also know that the feasibility of grand merger as possible option for fighting the ruling party is also in course in the State.
The fact that APC is the ruling party is not a conditio sine qua non for compulsory continuation of it as the ruling party in the State. The chute of former President Jonathan and former Governor Ohakim as fallen incumbents, as well as the emergence of the latter from another party (PPA) at the exit of Governor Udenwa's regime, etc, are all good lessons and examples for the fact that being in the ruling party without planning inner game that makes the majority party members happy than only few trusted apex party leaders and loyalties, do not guarantee the continuation of such party as ruling party.
What will solve the above enigma is returning to zoning and bringing up new crop of politicians into the party primaries for the gubernatorial race, and give them party supports. In returning to the zoning, there are certain social realities that must be taken cognisance of, such include: Peoples love and aversions for candidates, which in the Imo records consist in xenophobia (abnormal aversions and hate for a race, clan or people), power-stool rotation, past histories and records of aspirants, irrespective of the height of office held. How did he or she deliver as a good public servant? Who and from which other zone can be most fitting to pair up with the candidate for the race, etc?
If these factors are taken care of, and with these new members (entering into the apex leadership positions) and the old political plinths in the party as grand bull walls, APC will have resistibility, very strong tap roots and widely spread tentacles that ensure longevity in the power stool. But when the same apex leaders are recycled, new crop of politicians will either defect en mass to the nearest option party or form grand alliance and merger to fight to finish the ego and aspirations of the proud ruling party. And once the great are tortured to failure and succumb, a ruling party looses it hold of power and popularity as well. Every one thus goes back to his tent (like in 2 Samuel 20:1).
To be frank, this argument on zoning comes up every time the ruling party is in power. But whether it comes up with zoning or not, the truth remains that it always tries to envision the equity charter, believing continuity of its political party in the steering of the State affairs, and by the time inter-party clashes or inter-senatorial zones rivalry occurs among the privileged class, the party not only looses the State's headship but destroys the equity charter already formed and Imo goes back to zero status again.
Thus, for 20 years of modern Democracy (1999-2019), Imo State has been ruled by PDP (1999-2007), PPA (2007-2009), PDP (2009-2011), APGA (2011-2013), APC (2014-2019) and perhaps PDP, APGA, UPP, Labour Party or another party may emerge if these realities are truncated come 2019. In each distortion, the equity charter suffers, mostly as it was ab initio a PDP's envisioned model of ruling and interchange of the baton of leadership from one senatorial zone to the other in the State and Nigeria till the projected 2050, as alleged.
Rochas I still maintain has to play a good party leader, eschew self-succession plots, and organise free and fair primaries for the ruling party. This could be done by encouraging good candidates from the 3 local governments that form the Owerri Capital, which since the creation of the State and inception of democracy in Nigeria, has never lead the State apex leadership posts. I mean the governorship primaries in APC as the ruling party, should be restricted to only candidates from Owerri Municipal Council, Owerri North and Owerri West Local Government Areas. This would go a long way to appeasing angers generated by the excesses of this present administration.
Governor Okorocha should rule and hands up for Owerri zone to take up. But for an Owerri to take an Okigwe as running-mate will be detrimental as any gubernatorial candidate in any of the big parties from Okigwe that picks an Orlu deputy gubernatorial candidate will take up the seat again. But if an Owerri man or a Okigwe man picks up an Orlu Zone man who is popular and the masses favoured choice, absolute competence is assured for leadership success is not only a team work but debuts from the Governor and his Deputy's leadership qualities.