Onicha-Olona Boils As Policeman Allegedly Shoots Okada Rider To Death
Mob sets fire on Onicha-Olona Divisional Police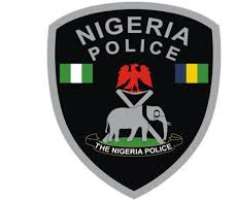 Reliable information reaching our news desk indicates that mob have set the Onicha-Olona Divisional Police Headquarters ablaze over the death of an Okadaman, allegedly shot dead by a police man.
Trouble started when a police officer, who was on check point along Issele Uku/Mkpitime road allegedly demanded for N100 from the commercial motorcyclist who was plying the road.
It was gathered that the motorcyclist, declined and attempted to escape from the officer, hence the police officer released the trigger and allegedly wasted the life of the motorcyclist, otherwise called okada rider.
An eye witness account said that the police officer hit the okada man with the butt of the gun on his head, a development which led to the instant death of the okada rider.
As at the time of filing this report, there is pandemonium in Onicha Olona as irate youths mobilized and pounced on the community police station and razed it down.
It was also learnt that in the process of the protest, one of the protesters was allegedly shot by the police and was rushed to the hospital in Issele Uku for treatment.
In a further display of solidarity with their deceased colleague, the youths, it was reliably learnt mobilized again and burnt down the shop of the wife of the police officer who killed the okada rider.
In a swift reaction, the Delta state Police Public Relations Officer (PPRO), SDP Andrew Aniamaka, downplayed the ungodly action of his officer for allegedly killing an okada rider, stressing that it was a mere allegation on the police..
He also overlooked the ungodly demand allegedly made by his officer from an okada rider who fends for his family from riding okada in a village.
Rather, he said investigation has not been carried out to prove that the officer was the one that actually killed the okada rider.
He said gone are the days when people take laws into their hands and carry out jungle justice.
He added that the burnt police station was built by community effort and it was criminal of the youths to have razed the police station in the community.
Meanwhile, the Chairman of Police Community Relations Committee, PCRC, Delta North Senatorial Zone who is also from Olona, Nze Elumelu, has confirmed the alleged death of one person and the setting ablaze of the police station.
He pleaded for time to get to Onicha-Olona from Asaba, so he would be able to give further confirmations on the situation.