Your National Security Team Members Are Sectional; Partisan-: Huriwa Tells Buhari:
*Condemns threat of Miyetti Allah should Buhari fail to get re-elected next year: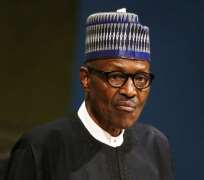 A prominent civil Rights organization- HUMAN RIGHTS WRITERS ASSOCIATION OF NIGERIA (HURIWA) has blamed sectionalism, partisanship and crass incompetence on the part of most members of national security team of President Muhammadu Buhari's administration for the spectacular blood cuddling attacks by armed Fulani herdsmen on farming communities.
The Rights group said the armed Fulani herdsmen have become emboldened to upgrade the sophistication and scope of their terror campaigns because they now know that the members of the national security management team set up by their kinsman President Muhammadu Buhari since winning election three years ago are unwilling to behave like statesmen and patriots by not going after them(the attackers) but are rather manufacturing disreputable and unsustainable reasons for the incessant violent killings of thousands of innocent Nigerians and the dispossesiob of their landed assets.
In this vein, the Rights group has carpeted the Inspector General of Police Alhaji Ibrahim Kpodum Idriss for blaming the passage of the anti-open grazing laws in Benue and Taraba States for the spikes in violent terror attacks by armed Fulani herdsmen which have resulted in the death of several thousands of people. HURIWA has demanded the dismissal for crass incompetence and compromise of the Inspector General of Police for this highly insensitive and irresponsible conclusions he purportedly made at the recent executive session of the Senate of the Federal Republic of Nigeria.
"It seems to us axiomatic that the Inspector General of Police has by these senselessly irresponsible assertions, clearly and unambiguously demonstrated to Nigerians that he is not ready and willing to carry out his duties in compliance with constitutional provisions but is only out to do the biddings of a well embeded cabal within the highest echelons of the Presidency of Muhammadu Buhari who are deliberately undermining the national security interests of Nigeria by encouraging and indeed masterminding the monumental compromise of national security of the nation to massage the Ethnic ego of Fulani herdsmen who share Ethno-religious affiliations with the majority of the members of the President Muhammadu Buhari's national security team. We find these blatant disrespect to the constitutional oaths of office sworn to by the President and Heads of the different security forces not only disturbing but capable of planting and sparking long drawn inter-Ethnic warfare in Nigeria if these tendencies aren't checked and effectively stopped. These statements from an Inspector General of Police whose office has failed to prevent the comprehensive attacks waged against farmers by armed Fulani herdsmen shows that it is time to sack him from his post since he is completely overwhelmed by the armed killer Fulani herdsmen and has been railroaded to come up with an untenable and senseless statements to justify the January 1st pogroms in Benue state and the massacres of thousands of innocent Nigerians in the North Central states".
HURIWA has also called for the investigations by the National Assembly of the Comptroller General of Nigerian Immigration Services Alhaji Muhammed Babandede for allegedly attending a North West caucus meeting of the national ruling party of All Progressives Congress (APC) in Kaduna convoked by the Jigawa State governor during which time the said Jigawa State governor secured an endorsement for a second term in the 2019 polls. The Comptroller General of Immigration is purportedly gunning for a senate position in the next year's general election.
HURIWA stated thus:" We find it shocking and indeed a national embarrassment of catastrophic consequences that a section of the media captured the Head of Nigeria's Immigration Service allegedly attending a political party meeting even when as a uniformed para-military officer heading a strategic national security post he is not legally allowed to attend such a partisan and political meeting. Any wonder then that the Nigerian Immigration Services under this current dispensation has failed to stop the inflow of illegal immigrants masquerading as herdsmen who are fully armed and are alleged to be amongst those hired mercenaries carrying out well coordinated violent attacks of farming communities dominated by Northern Christian minorities. How are safe with this card carrying party man as head of immigration in a complex society that have in the past witnessed millions of foreigners from neighbouring Niger Republic who allegedly obtained Nigeria's passports, voters' cards and had actually voted in much of the past elections? Can this politician in uniform stop foreign voters from infiltrating the nation since they may become merceneries for the All progressives congress which controls the states that share borders with Niger, Chad and Northern Cameroon? This revelation carried in the media alleging the attendance of the Comptroller General of Immigration service in Nigeria together with the self centred and selfish reasons advanced by both the minister of Defence Mansur Dan-Ali a retired Major General who is Hausa/Fulani and a Moslem by affiliations, the Inspector General of Police a Nupe Niger State Nothern Nigerian born officer are manifestations of the presence of persons with selfish and sectional agenda manning all the strategic national security positions under the watch of President Muhammadu Buhari. This compromised national security team members can never be patriotic enough to exercise their constitutional roles with altruism and love of nation. These persons are too sectional and partisan to be competently able and willing to behave like statesmen. This government must make hay whilst the sun shines to avoid leading Nigeria to a long drawn out civil wars. These compromised piliticians heading national security pisitions must be fired for peace and security to be assured".
Relatedly, the duo of the National Coordinator Comrade Emmanuel Onwubiko and National media Affairs Director Miss Zainab Yusuf in their joint statement said the HUMAN RIGHTS WRITERS ASSOCIATION OF NIGERIA (HURIWA) has called for the arrest and prosecution of the leadership of Miyetti Allah cattle owners Association who threatened to wage war should the current President Muhammadu Buhari their kinsman fail to win a re-election in the 2019 polls.
HURIWA said the threat amounted to high treason which shouldn't be treated or handled with kid gloves by government except there is a sinister plot to distabilise Nigeria next year.
HURIWA recalled that the President of Miyetti Allah Kautal Hore Socio-cultural Association, Bello Abdullahi Bodejo had stated that anyone who takes the mandate of President Muhammad Buhari to rule the country come 2019, would be in for a bitter fight.
HURIWA recalled that in an intereview with Sun News, Boyejo said, nobody should try and remove Buhari, adding that the eyes of the Fulani all over the country have 'opened'.
HURIWA quoted the Miyetti Allah boss as saying that "Nobody should try to remove Buhari in 2019. All the Fulani in Nigeria today, our eyes are open. All of us are behind Buhari; we have seen that they want to destroy the Fulani because of Buhari.
"We would not allow anybody to intimidate the Federal Government or to take Buhari's mandate; we would be ready to follow him and fight it. We are ready to do anything to ensure that Buhari comes back to complete the good work he is doing. The people criticizing him are just few and nothing would affect his chances of coming back."
HURIWA lamented that due to overwhelming sectionalism and partisanship afflicting majority of the heads of strategic national security agencies this leader of Miyetti Allah cattle owners Association accused of sponsoring violent attacks against farming communities in Southern Kaduna, Benue, Adamawa and Taraba States, may get away with this high treason of open threat to start a war should Muhammadu Buhari democratically fails to win re-election next year.
HURIWA said: "We call on all Nigerians of conscience who love Nigeria to speak out now and demand the arrest and prosecution of this man who has openly threatened war against the good people of Nigeria. We demand the proscription of this terrorism platform accused of encouraging different attacks targeting farming communities".