Stoppage of N11bn FG refund to Ekiti is Fayemi's wickedness against Ekiti workers taken too far – Gov Fayose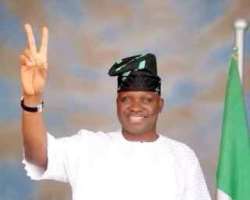 It is with heavy heart and deep sense of responsibility that I
address you today on the latest display of deep-seated hatred against
Ekiti State and its people by leadership of the All Progressives
Congress (APC), especially the Minister of Mines and Steel
Development, Dr Kayode Fayemi.
When I said that I won't leave office as a debtor of salary, going by
the efforts I have made, I was sure that the over N12 billion owed the
State by the federal government on construction and rehabilitation of
federal roads will be paid to Ekiti like other states this month.
However, I am shocked that in their usual characteristics of working
against every effort to alleviate the sufferings of the people, Dr
Fayemi, through his former Commissioner for Finance, Dapo Kolawole
instituted a case against Ekiti State at Abeokuta, seeking an order to
stop the payment of N11 billion due to Ekiti as refund for
construction and rehabilitation of federal roads.
One wonders why a case involving Ekiti was instituted in Abeokuta when
we have a Federal High Court here in Ekiti. It is clear that this is
an attempt at shopping for court order to prevent Ekiti people from
getting the refund due to the state.
Sadly, the N11 billion refund that should have been paid to Ekiti
State this month is said to have been stopped by the federal
government, relying on the court action.
My question is; must Ekiti people, especially the workers be made to
suffer by their won just because of desperation for the coming
governorship election? Is it by this inhuman act that these APC
people intend to realize their tall dream of taking over Ekiti State
by force?
I consider this as wickedness taken too far against one's own people.
My salary as a governor is under one million naira, now imagine those
workers that will suffer from this wickedness all in the name of
opposition politics.
They believe that when they strangulate this State in terms on
finances, they will be able to have an inroad into the State.
This is even more worrisome when one reflects that it was this same
APC government of Fayemi that plunged the State into huge debt, which
led to irregular payment of salary. On this debt, about N1 billion is
being deducted from Ekiti allocation monthly.
It is equally unfortunate that despite being in charge of the ministry
of solid minerals, his office has not benefitted Ekiti regarding the
available minerals resources in the State. No single road project has
been done in this State since the beginning of the APC federal
government.
It is my belief that the well-being of the people should be the utmost
concern of all of us irrespective of our political affiliation. Ekiti
people must not be made to suffer just because anyone has political
issues with me.
Even though I remain undaunted, I just have to place it on record that
once again, the collective interest of Ekiti and its people is being
sacrificed on the altar selfish political interest.
However, I wish to assure our workers that I will leave no stone
unturned in ensuring that the evil plans of these political
desperadoes in the APC do not materialize. I will use all legal means
to stop this wicked plot to deny our State its legitimate
entitlements.
I also call on Ekiti people to continue to pray against whoever that
is plotting against their well-being.

Ayo Fayose
Governor, Ekiti State
31-01-18